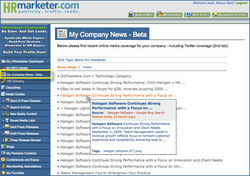 Capitola, Calif. (PRWEB) September 2, 2009
HRmarketer.com clients can now benefit from a comprehensive online media monitoring service that tracks major national news sites, newspapers, trade magazines and business journals, plus broadcast TV and radio media outlets.
The "My Company News" section will also track HR-specific online news, blogs and social media sites such as Twitter—effectively covering millions of outlets. The new service is now available to clients of HRmarketer.com, the leading provider of marketing and PR software and services in the human resources industry.
Updated hourly, the "Company News" section enables members to conveniently view recent media coverage of their company and mentions on blog and Twitter posts. Users may then choose to link to the original source as it actually appeared, with all original text, photos and graphics.
Additionally, members can share their media coverage via services like LinkedIn, Facebook, Twitter and Digg to further enhance their company's online visibility and Web site traffic. All content is fully accessible via RSS in any desired format, and companies can subscribe to their own feed via email updates.
HRmarketer.com members will receive the feature at no additional cost. In addition to the news archive, members will get personal archives that can be searched by keyword, tag or date. They can locate news, blog and Twitter coverage from a specific week that relates to any search-optimized press release sent via HRmarketer.com.
While content is currently available in a mobile feed, HRmarketer.com plans to introduce an iPhone application in Fall 2009 that gives HR vendors the ability to track online media coverage from their iPhone. They will also receive alerts when their company is Twittered or appears in a blog or other online news source.
"Our new e-clipping service helps HRmarketer become a central resource where HR suppliers can plan, manage, execute and measure their company's marketing, PR and SEO initiatives," said Kevin Grossman, president of HRmarketer.com. "For years our members have asked for a media tracking service to help them locate news coverage and media placements. Now we can help them measure which news announcements best resonate with various media audiences including blogs and social media sites."
The announcement comes just months after HRmarketer.com launched the SEO Center, allowing HR suppliers to improve their search engine visibility and track their keyword rankings on Google, Yahoo, and Bing—plus monitor the impact of Web site content changes on search rankings. Later this year the company plans to introduce an upgraded "Marketing Planner" tool, enabling vendors to produce comprehensive and interactive reports to help vendors measure and track their marketing and PR investments.
About HRmarketer.com
HRmarketer.com is a division of Fisher Vista LLC, a marketing and information services firm focusing exclusively on the human capital industry. Through its marketing and public relations services, the company has serviced nearly 600 human resource and employee benefit service providers, helping them generate publicity, website traffic, sales leads and improved SEO.
Media Contact:
Elrond Lawrence, Fisher Vista, LLC
831.757.9100
elawrence(at)fishervista(dot)com
This press release was distributed through eMediawire by Human Resources Marketer (HR Marketer: http://www.HRmarketer.com) on behalf of the company
listed above.
# # #