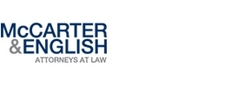 We are very proud of Mark and congratulate him on this well-deserved recognition
Philadelphia (PRWEB) September 2, 2009
McCarter & English is pleased to announce that Mark D. Villanueva, an associate in the Philadelphia office, has been selected by the editorial staff of Incisive Media's The Legal Intelligencer - the oldest legal daily in the U.S. - and Pennsylvania Law Weekly as a 2009 "Lawyer on the Fast Track." Attorneys selected for this honor are highlighted as the future leaders of Pennsylvania's legal community.
"We are very proud of Mark and congratulate him on this well-deserved recognition," said Joel Horowitz, managing partner of the Philadelphia office of McCarter. "Mark's commitment to his profession and his clients are exemplary."
Mr. Villanueva is a member of McCarter & English's Insurance Coverage and Complex Commercial Litigation Group. In his practice, Mr. Villanueva represents policyholders seeking coverage for a wide variety of claims, including asbestos bodily injury, employment practices liability, directors' and officers' liability, and construction-related bodily injury. In addition to insurance coverage litigation, Mr. Villanueva litigates complex commercial disputes, and has also successfully defended clients against claims of medical malpractice. He has litigated cases in a number of state and federal courts, and has also obtained favorable awards in arbitration proceedings.
Nominees were judged on their career history, leadership roles, client work, pro bono and community service activities, among other areas. Full profiles of this year's honorees will be included in a supplement to be published in the Legal Intelligencer on Monday, Sept. 28. The winners will also be honored at a dinner at the Doubletree Hotel in Philadelphia on Thursday, Oct. 22.
Prior to joining the firm, Mr. Villanueva served as a law clerk to the Honorable Paul S. Diamond in the United States District Court for the Eastern District of Pennsylvania. He received his J.D. from Catholic University, magna cum laude, and his B.A. from Bucknell University.
About McCarter & English
McCarter & English, LLP, established more than 160 years ago, represents Fortune 500 and middle-market companies in their national, regional and local litigation and on important transactions. Its 400 attorneys are based in offices in Boston, Hartford, New York, Newark, Philadelphia, Stamford and Wilmington. http://www.mccarter.com
###