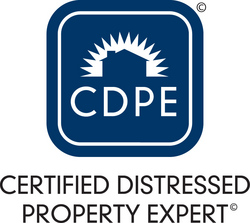 Through our combined efforts, we'll more effectively reach real estate professionals and help a greater number of homeowners in need.
Austin, Texas (Vocus) September 3, 2009
The Distressed Property Institute, LLC announced today its partnership with the National Association of Hispanic Real Estate Professionals (NAHREP) and the Asian Real Estate Association of America (AREAA). The three associations share common core beliefs and the mission of promoting sustainable homeowner solutions in communities by providing educational tools, networking forums and advocacy.
"To gain the support of such highly respected organizations is an exciting development for us," said Alex Charfen, CEO of the Institute. "Through our combined efforts, we'll more effectively reach real estate professionals and help a greater number of homeowners in need."
The Institute offers the Certified Distressed Property Expert® designation to graduates of its training courses in foreclosure avoidance processes, tools and strategies, with a particular focus on short sales. With more than 10,000 members nationwide, CDPE is the fastest growing designation in real estate industry history. A recent survey conducted by the Institute found CDPEs have kept homeowners in their homes more than twice as often as losing a home to foreclosure.
"The CDPE instructs agents on how to assist the thousands of homeowners in need of options," Charfen said. "This ensures agents' profitability while preventing homeowners from going into foreclosure."
NAHREP is a national non-profit trade organization that believes the most effective way to help homeowners is by empowering the advisors that serve them. NAHREP provides certification programs, seminars delivered by recognized experts, and partner programs intended to help members run beneficial, prosperous businesses.
"NAHREP has always put homeowners first and believed in sustainable, equitable housing solutions," said Tino Diaz, chairman of NAHREP. "With the Distressed Property Institute, we have found an organization whose goals and perspectives align perfectly with ours."
AREAA is also a national non-profit organization dedicated to sustainable homeownership solutions through education and advocacy. AREAA utilizes local seminars and networking events, national forums and continuing education courses to equip their members with the tools to keep multicultural homeowners in their homes.
"AREAA is excited to support this partnership that will deliver tangible solutions for homeowners in trouble," said Allen Chiang, AREAA chairman. "Creating viable solutions, particularly for minority and immigrant homeowners are critical in today's market, and we are proud to be working alongside the Institute and NAHREP toward our mutual goals."
NAHREP and AREAA will be providing members with a CDPE Live! Designation Course prior to their joint Real Estate and Marketing Conference held in Las Vegas, NV this October 26 and 27.
About the Distressed Property Institute, LLC
The Distressed Property Institute trains real estate professionals to engage with and assist homeowners facing hardships. The Institute has developed a curriculum to provide the tools and knowledge to handle distressed properties, including short sales, deeds-in-lieu, mortgage modifications, forbearance, refinances, reinstatements and, if that fails, how to help homeowners through the foreclosure process. After completing a comprehensive on-site or online course, graduates are awarded the Certified Distressed Property Expert® Designation.
About the CDPE Designation
The CDPE Designation provides real estate industry professionals with detailed information on how to engage with and assist homeowners in distress. CDPE has been endorsed by RE/MAX International and other major U.S. brokerages and industry icons, including: Dave Liniger, chairman and co-founder of RE/MAX; Howard Brinton, founder of STAR POWER® Systems; Bob Corcoran, founder of Corcoran Coaching and Consulting; Brian Buffini, founder of Buffini and Company; and David Knox, founder of Knox Productions.
Liniger recently announced that more than 7,500 RE/MAX agents would receive the CDPE training in 2009.
For more information about The Distressed Property Institute and the CDPE Designation, visit http://www.cdpe.com.
Media:
Adam Pedowitz
512.501.2588
# # #