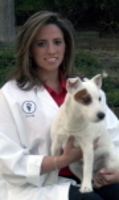 Fort Washington, MD (Vocus) September 2, 2009
Indian Head Animal Hospital welcomes Dr. Ivette Nessim to our practice! Dr. Nessim's association with Indian Head Animal Hospital began in 2008 when she provided relief services for the veterinarians. She has become a valued team member and looks forward to a bright future with Indian Head Animal Hospital.
Ivette Nessim, DVM, was born in Colombia, South America. Her love for animals started with work on the family farm. Her experiences have taken her as far as Israel where she worked with the National Veterinary Services. When her parents moved the family to Maryland, she began to work at local veterinary hospitals to gain more experience. She attended the University of Maryland and received two Bachelor of Science degrees in Microbiology and Animal Sciences. She graduated from the VA-MD Regional College of Veterinary Medicine and began her medical career as an associate at a small animal practice in suburban Washington. She speaks fluent Spanish and Hebrew. Her interests include dentistry, internal medicine, dermatology, and her Jack Russell Terrier, Tobby.
Dr. Nessim will be available to see patients by appointment.
###