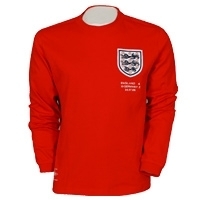 I was very surprised by how quickly the site took off, usually websites that are very specific to one type of product can be a slow burn but obviously football fans out there have taken to it very well
Manchester, Greater Manchester (PRWeb UK) September 3, 2009
If you're a football fan and you haven't heard of retrofootieshirts.co.uk then you're in for a treat. The owner of the site, Paul Eddison, has uniquely combined the absolute best in retro style football shirts in one easy to use website, which, to date, is proving to be a massive hit with the fans.
"I was very surprised by how quickly the site took off, usually websites that are very specific to one type of product can be a slow burn but obviously football fans out there have taken to it very well" says Paul Eddison.
The website itself is broken down into a number of different categories. There is English Clubs, European Clubs, National Teams, Scottish Clubs, South American Clubs, a section for retro tracksuits as well as a football t-shirt area.
Within each category all of the individual teams are displayed, for example, there are thirty-seven different teams represented in the English Clubs section.
"Some clubs are clearly more supported than others," says Paul Eddison. "Sales have shown that the top team jerseys and shirts being bought from us are Liverpool FC, Manchester United and England, and surprisingly Germany is in fourth place".
"There are probably many reasons why some team shirts don't sell as well such as Chelsea, Rangers and Aston Villa, which, not only are rarely purchased, but rarely viewed according to my statistics. I can only imagine that the past designs are not as iconic as some of the other teams."
In this tough economic climate, it seems that people are hankering after a much simpler time. Remember when you were a kid and the only thing of any importance was getting your hands on the newest team jersey - of course that was when they only changed them every few years, not every few months.
Retro football shirts seem to have an amazing capacity to evoke memories of favourite childhood players, friends growing up, football on a Saturday when kids got in for free and World Cups in summers when it never seemed to rain.
They also happen to largely be cheaper then the current football jerseys, which can often cost up to £60 a piece. The retro shirts however, can cost as little as £19.99 depending on your team, plus they never go out of fashion. There are also more offers and discounts on purchases available than in conventional football stores which could save you even more money which is important when every penny counts.
"Men are notoriously difficult to shop for" says Paul Eddison, "That's one of the reasons we believe that the retro shirts have been such a success because they make the perfect gift whether it's for a son, a brother, a husband or a father, every man appreciates this kind of present".
And with Christmas around the corner a retro football shirt is definitely something to consider when shopping for the man who has everything so if you want to know more about Retro Footie Shirts or you simply want to browse for your favourite childhood team shirt then go to http://www.retrofootieshirts.co.uk.
###