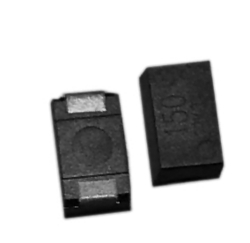 Liberty, SC (PRWEB) September 4, 2009
Cornell Dubilier announces availability of types SPCX and SPSX surface mount aluminum polymer capacitors for DC/DC converter input and output applications. Both series are designed to handle up to 260°C solder temperatures used in the manufacture ROHS compliant circuit boards.
Type SPCX is the most economical series in a low ESR package. Capacitance ranges from 100µF to 470µF in voltage ratings from 2.0Vdc to 6.3Vdc, with ripple current capability of 2.7A at 105°C.
Type SPSX has less than 9 milliohms of ESR allowing it to handle 3A of ripple current at 105°C. Capacitance values range from 82µF to 470µF in voltage ratings from 2.0Vdc to 6.3Vdc.
Both types are supplied in a surface mount molded package with the same footprint as a D size tantalum capacitor in a very thin profile of 1.9mm.
Applications include but are not limited to DC/DC converters for audio/visual equipment, computers, and home appliances, optical and measuring equipment.
Full specifications are at http://www.cde.com/catalogs/SPSX.pdf and at http://www.cde.com/catalogs/SPCX.pdf . For product information contact Terri Medeiros at (508) 996-8564. In OEM quantities types SPCX and SPSX capacitors are available with pricing from $0.50. Samples are available upon request, production in 8-10 weeks.
About Cornell Dubilier:
Cornell Dubilier is a leading capacitor manufacturer with facilities in New Bedford MA, Liberty SC, Mexicali Mexico and Shenzhen China. Dedicated to being the source for capacitors that transform applications to success stories, it excels with aluminum electrolytic, mica, motor run, and AC and DC plastic film capacitors. The world leaders in welders, UPS systems, motors, drives, avionics, power and military electronics and medical lasers are prominently among its more than 35,000 customers. Its principal market is power electronics.
###