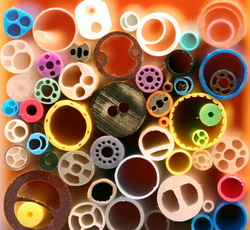 For over 20 years our medical device customers, in particular, have come to rely upon our core capability as a manufacturer of small diameter plastic tubing
Salem, NH (PRWEB) September 22, 2009
A.P. Extrusion (http://www.apextrusion.com), a custom tubing manufacturer located in Salem, New Hampshire, has recently announced the addition of 3D printing services providing its customers who contract with the company for custom small diameter plastic tubing needs a new competitive advantage. This innovative new technology will facilitate R & D engineers in improving the efficiency and expense of developing small diameter custom tubing, particularly for instruments used in complex surgical and medical applications.
"For over 20 years our medical device customers, in particular, have come to rely upon our core capability as a manufacturer of small diameter plastic tubing," states President of A.P. Extrusion, John Brusseau. "However, we can provide more than plastic tubing extrusions to the medical community. Due to the recent addition of 3D printing technology in-house, we can also help others innovate with more success with our rapid prototyping services. They now have the option of developing numerous ABS prototype models of their small diameter plastic tubing before committing to a final design. This is a big announcement for many as it saves them both the time and expense of producing small diameter plastic tubing for their equipment.
A.P. Extrusion's extensive manufacturing capabilities along with their recent innovation make them a small diameter plastic tubing manufacturer of choice for a wide range of other industries including chemical transfer, automotive, pharmaceutical processing, food and beverage, semiconductor, computer equipment, and industrial markets. The company uses SPC workstation technology to assist in manufacturing small diameter plastic tubing that requires tight tolerances of (.00025").
In addition to frequently introducing new technology, the strength of its manufacturing services lies in its ability to consistently meet all USDA, NSF, and FDA standards achieved by utilizing its Class 100,000 Clean Room, and following strict adherences to Good Manufacturing Practices (GMPs). A.P. Extrusion has extensive experience in manufacturing small diameter plastic tubing in a variety of thermoplastics and custom compounds, in a variety of extrusion configurations.
For more information about the full extent of A.P. Extrusion's small diameter plastic tubing manufacturing capabilities and its new 3D printing services, call 603.890.1086.
A.P. Extrusion, Incorporated
A.P. Extrusion, Inc. located in Salem, New Hampshire, is a New England-based manufacturer of small diameter plastic tubing and a 3D printing service provider. We have over 20 year of experience in the custom, plastic, and medical tubing industries. Our experienced staff of engineers and designers will work with your company to manufacture your prototypes and products. For more information, please contact us at 603.890.1086 or visit http://www.apextrusion.com