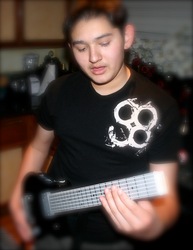 The YOU ROCK GUITAR is awesome. It goes far beyond what a traditional gamer can do, but it's so much more. It feels completely amazing
Irvine, CA (PRWEB) September 3, 2009
World-renowned, 5-time Guinness World Record holder Danny Johnson, stopped by the Inspired Instruments studio this past week to try out the YOU ROCK GUITAR™. His insights were great and appreciated. "Danny is undisputedly the best Guitar Hero player in the world, but he's also a budding musician, uniquely qualifying him to review the gaming and musical aspects of the You Rock Guitar, the GameFlex™ system and the very musical You Rock Mode™" said Kevin Kent, Inspired's CEO. A 5-time record holder, with 3 more records awaiting approval, Danny is the only player in recorded history to score 100% on every Guitar Hero game ever made. "We're anxious to see how fast he FC's Guitar Hero 5 from start to finish" Kent goes on to say.
http://www.yourockguitar.com
Danny's sizeable following exemplifies the shared passion by millions of gaming enthusiasts around the world. After hearing about the You Rock Guitar at the June E3 show in Los Angeles this summer, Danny decided he had to see it and play it for himself. Here's what he had to say.
"The YOU ROCK GUITAR is awesome. It goes far beyond what a traditional gamer can do, but it's so much more. It feels completely amazing," said Danny after trying it for himself. "When I first started playing Guitar Hero, I thought about playing real guitar, but I couldn't do it with what was available. This is what everyone has been waiting for!"
"I saw the same frustration from many aspiring guitar players," says JR deSouza, Inspired's executive VP. The guitar was often too loud or out of tune, and there were few digital tools available until recently. There was a big gap between aspirations and reality. "The YOU ROCK GUITAR is designed for just that. It combines the instant gratification and ease of use of video games with the ability to play with backing tracks, create your own music , and share it with friends. It's the best of both worlds, guitar gaming and guitar playing", JR says. And with about 50 sounds built in and more you can download, this isn't some flash in the pan controller for video games, it's a music platform unto itself," adds the original inventor Cliff Elion.
Cliff goes on to say, "in addition to Danny's feedback on hand positioning was brilliant. Not everyone plays at the mind-boggling speed that he does, but gamers will be glad Danny stopped by and let us in on some secrets to great gaming."
"The YOU ROCK Guitar is flat out amazing," says Danny. "It teaches kids how to play real guitar by picking real strings and using touch sensitive frets, not simple buttons and a paddle. Now that I've seen it, I realize this is what I've been waiting for!"
"It's interesting to see the exact same passion and desire coming from both ends of the spectrum, the video gaming and music playing worlds. The YOU ROCK GUITAR allows players anywhere on that spectrum, from gamers to professional musicians to benefit from a high-speed digital guitar. I've been in this business for 30 years and I guarantee you've never seen anything as amazing as this. Pro's love it. Kids love it. We've crossed the bridge," says Kevin Kent, CEO.
JR adds "I've been involved with a number of new-to-market products in my career, but never any with as many immediately recognizable benefits in; gaming, music, mobile music, professional music, education, songwriting, recording and sharing, yet the whole thing is incredibly affordable. Everyone looks at this product and they just get it. We're hoping with friends like Danny, gamers will understand we really did build a bridge here for them. Passion is infectious."
YOU ROCK GUITAR… Have Fun, Rock Will Happen.
About Inspired Instruments
Inspired Instruments is dedicated to providing customers with innovation at every opportunity, real music for real gamers. You Rock Guitar™ - GameFlex™ and You Rock Mode™ are registered trademarks of Inspired Instruments, Inc.
Guitar Hero Phenom Danny Johnson talks about playing with the You Rock Guitar on YouTube.
http://www.youtube.com/user/YouRockGuitar
Get ready to rock - The Pre-Order List is here. For you and your friends. http://www.yourockguitar.com/order-form/
# # #