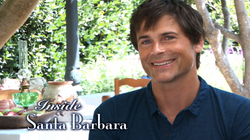 Santa Barbara, CA (Vocus) September 3, 2009
The Santa Barbara Conference & Visitors Bureau and Film Commission (SBCVB&FC) introduces "Inside Santa Barbara", a five-episode online video mini-series presenting a genuine insider's view of life on The American Riviera. The SBCVB&FC enlisted the help of seven high-profile Santa Barbara residents to bring the spirit of the community to life and provide authentic local tips for visitors.
The short, documentary-style videos reveal what motivated a world champion surfer, celebrity chef, film actor, reality television star, ocean explorer, composer and musician to plant roots in Santa Barbara, and what they each love about their hometown. Featuring local residents Shaun Tomson, Cat Cora, Rob Lowe, Andrew Firestone, Jean-Michel Cousteau, Jay Ferguson and Zach Gill, the series kicks off September 2 and a new episode will be uploaded each Wednesday following throughout the month. The videos will be available on SantaBarbaraCA.com/InsideSantaBarbara, YouTube and Facebook. Santa Barbara's Twitter followers will also receive tweets and quick peaks when each episode goes live.
EPISODE GUIDE
1. Inside Santa Barbara (September 2): Meet the cast of characters, hear their general impressions of Santa Barbara and get a taste of what's ahead in the "Inside Santa Barbara" series.
2. Why Santa Barbara? (September 9): Discover what led each of these talented individuals to make Santa Barbara their home. Hear about the moments they first fell in love with Santa Barbara and what makes Santa Barbara special to them.
3. My Perfect Santa Barbara Day (September 16): Find out how these locals would spend their "perfect day" in Santa Barbara.
4. Sip & Savor (September 23): Get tips on where to eat and drink--from neighborhood gems and iconic restaurants to casual taqueria's and local watering holes.
5. Compliments of Santa Barbara: Budget-Friendly SB (September 30): The best things in Santa Barbara are free--literally. Hear about the best free and inexpensive things to do and learn how to experience the local lifestyle without breaking the bank.
ABOUT
"Inside Santa Barbara" was produced by the Santa Barbara Conference & Visitors Bureau and Film Commission and Bison Video. The featured personalities were not paid for their appearances, nor were their comments scripted. The SBCVB&FC is a nonprofit 501 (c) 6 organization jointly funded by the City of Santa Barbara, County of Santa Barbara and a membership of 250+ hospitality-related businesses. The collaborative organization's mission is to market Santa Barbara County as a destination for tourism and film.
CONTACT: Shannon Turner Brooks, Director of Communications
Santa Barbara Conference & Visitors Bureau and Film Commission
805.966.9222 x112
###