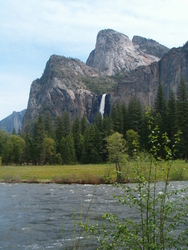 They've said the smoke is pretty minimal and are still getting a lot of reservations for camp sites
Oakhurst, CA (Vocus) September 3, 2009
Madera County, known as "California's Gateway to Yosemite", will be open for travelers looking for an escape this holiday weekend.
"We have had some calls of people wondering what the status was with the fire," said Dan Cunning, CEO of the Yosemite Sierra Visitors Bureau. "Highway 41, which runs through Madera County, is open and ready for visitors as is the park itself."
Cunning added they have heard from park officials, and the fire, which started as a controlled burn last week near the community of Foresta and has since breached fire lines, has had little effect on the park. "They've said the smoke is pretty minimal and are still getting a lot of reservations for camp sites," he said.
The region also offers other alternatives for those looking for something else. Bass Lake is a popular option, offering boating, fishing, skiing and just about any other water-based activity. "It's a great way to escape the summer heat of the valley and cool off," said Cunning.
For those looking for an enriching weekend, there are art galleries in Oakhurst, the Madera Wine Trail which encompasses a dozen Madera County wineries, numerous museums and much more. For travel ideas, the Yosemite Sierra Visitors Bureau can provide ideas for a quick visit for a full itinerary. For information, contact the YSVB at (559) 683-5697 or log on to http://www.yosemitethisyear.com.
###