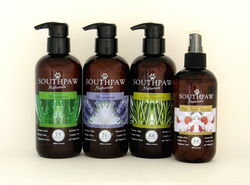 At 75%+ organic and 99%+ natural, our products perform well, while avoiding soap and other harsh ingredients
St. Petersburg, Fl. (PRWEB) September 4, 2009
Southpaw® Naturals has introduced a line of botanically-based dog grooming products crafted to combine solid performance, utilizing high levels of certified organic ingredients. The initial group of dog shampoos, conditioner, and hot spot spray are 99%+ natural, and created with 75% to 88% certified organic ingredients. They are the nucleus of a broader pet product line of distinctive formulations for Southpaw®.
Southpaw Naturals formulates and manufactures its' own products in its' St. Petersburg facility, that is certified as an Organic Manufacturer under the USDA National Organic Program.
Southpaw clearly states the percentage of organic ingredients on the front of every product. Southpaw's President, John Melville stated, "Transparency is important to us. While it is not legally required that ingredient lists on pet products be complete, Southpaw Naturals will state all contents, using the FDA rules for human products. Because consumers are confused by "organic" labels, we are committed to being open on organic content, by specifically stating the organic percentage."
"At 75%+ organic and 99%+ natural, our products perform well, while avoiding soap and other harsh ingredients," says Roxie Cariere, Director of Sales and Marketing. "Dogs' skin is more sensitive and requires gentle care." Southpaw Naturals products are pH balanced to reduce irritation and drying effects on pets. They contain NO parabens, SLS, SLES, or artificial fragrances.
The Southpaw Naturals group has been manufacturing grooming products for over 25 years. Its' pet products are designed to be supportive of the health and happiness of pets and to lend comfort to pet owners desiring to know and control what is being used on their furry family members.
Southpaw® is a registered trademark of the Southpaw Naturals group.
Mission Statement: We all share this planet, and together, we can make a difference daily with the choices we make….Please join our efforts. Southpaw Naturals, in memory of our company dog and friend Beanie, will donate a portion of its revenues to support the mission and efforts of the ASPCA.
For more information, please call
Roxie Cariere, 727-299-0891
Visit Southpaw's Web Site
###