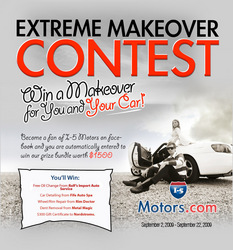 I-5 Motors' Extreme Makeover Contest
Fife, WA (PRWEB) September 4, 2009
Steadily building a strong web presence since 2003, I-5 Motors is proud to announce the launch of a fresh new website the second week of September, 2009. Located at i-5motors.com, the cutting edge web space features exciting updates like online financing approval, online payment portals, a weekly newsletter and blog articles posted frequently. Also debuting is a modern web interface carefully designed by the reputable Nubrilliance.com marketing team to provide the most sensible and easy-to-use layout for its valued customers
Included in the new site release:
Weekly Newsletter: Offering exclusive savings for subscribers only discounts to local partners.
Blog: Articles offering vehicle maintenance tips from I-5 Motors partners Fife Auto Spa and Rolf''s Import Auto Service.
Financing Pre-Approval: Get pre approved within 30 minutes; before you even visit the lot.
I-5 Motors' Buy It Online: New online car-buying service that allows you to select the vehicle of your choice, arrange payment and financing, and instantly pickup vehicle the same day. Most busy professionals have little time for haggling already inflated prices at pretentious dealerships. This cutting edge online shopping system saves time and money by removing the sales commission and eliminating time-consuming negotiation.
New Facebook promotion page: Found here at the I-5 Motors Facebook Promotion Page
Redesigned Online Showroom: Quickly and easily view any car on the lot with a full AutoCheck report offered on every vehicle at no extra charge.
I-5 Motors is complementing the exciting new website launch with a two week "I-5 Motors' Extreme Makeover Contest" for Facebook fans only. You only need to become a fan of their brand new Facebook page to enter the contest. Winners will receive:
Free Oil Change (Provided by Rolf's Import Auto Service)
Car Detail (Provided by Fife Auto Spa)
Wheel Repair (Provided by Rim Doctor)
Dent Removal (Provided by Metal Magic)
$300 Nordstrom's Gift Certificate
I-5 Motors knows that even with a new website and an exciting promotion, the business's focus must remain on providing a customer-centric experience from the first moment an individual steps through the door. Ever since the business was founded by Alex Spearman and Luke Wilson in 2003 I-5 Motors has maintained an unequaled reputation in its customer care featuring experienced yet trustworthy staff members in a relaxing and refreshing atmosphere.
"We've certainly heard horror stories from our customers telling us how pretentious new car dealerships with aggressive salespeople made them feel belittled and pressured," says Chris Hardesty, an I-5 Motors General Manager. Read the stories and see the difference for yourself on the company's new online customer feedback page.
I-5 Motors provides a premium selection of quality pre-owned contemporary luxury and performance automobiles. Their fully enclosed boutique-style showroom will provide you with optimal opportunity to browse their constantly changing inventory.
The showroom features a number of high performance & exotic automobiles as well as a large number of luxury sedans & coupes to fit any customer's budget.
The I-5 Motors on-site service center performs quality and service inspections for each vehicle sold in our showroom. In addition, our vehicles are certified through AutoCheck.com, an industry leader in providing a crucial means of examining a car's history.
I-5 Motors takes pride in assisting each customer with a unique financing opportunity and vehicle warranty to fit each person's needs. They have close relationships with a number of lenders to ascertain the most favorable financing package available.
You can visit the new website here: i-5motors.com or plan an on site visit located at 3323 20th Street East in Fife, WA, 98424.
Hours are Monday - Friday: 9:00 am - 7:00 pm, Saturday: 9:00 am - 6:00 pm and Sunday: 11:00 am - 5:30pm
###