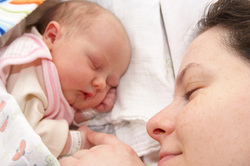 You are always thinking about how far along you are, when you will reach certain date-related milestones, and how much longer you have to wait to meet this baby!
Phoenix , Arizona (PRWEB) September 4, 2009
sheknows, one of the fastest growing online destinations for women, and the SheKnows-owned pregnancyandbaby.com a site focusing solely on pregnancy and babies, recently launched a new and improved comprehensive daily Pregnancy Calendar that now delivers more information, countdowns and personalization than ever before.
The new Pregnancy Calendar was created especially to suit the need-to-know mindset of expectant parents, the free PregnancyAndBaby.com daily Pregnancy Calendar offers three to five news bites of information for each day, customized for each stage of pregnancy.
"When you're carrying a baby for nine-plus months, you can get pretty obsessed with time," says SheKnows Founding Editor Nancy J. Price. "You are always thinking about how far along you are, when you will reach certain date-related milestones, and how much longer you have to wait to meet this baby!"
To that end, every page of the calendar reports how many days and weeks have passed, baby's gestational age, a countdown of days remaining, as well as a pie chart graphic showing the progress through pregnancy. Other tools include: due date and conception date calculators as well as a prenatal appointment timelines, are also available on the PregnancyandBaby.com site.
Membership is free and optional, but by registering on the day-by-day pregnancy calendar, the system will save the user's date information, provide customized entries and offer other perks, such as printable calendar pages.
To get a personalized pregnancy calendar, visit pregnancyandbaby.com
PREGNANCY TIMELINE TIPS
1. A quick way to figure out your due date: Add 7 to the number (date in the month) of the first day your period started, then subtract three months and add a year.
2. Due date calculations are typically based on the average 28-day menstrual cycle. However, if your periods are irregular (for example, your cycles vary in length a few days or a week or more) your due date could possibly be off by an equal amount of time.
3. Always remember that a due date is an estimate only, as every baby -- like every human -- is an individual. (Think of it this way: Did you have a growth spurt or start your period at exactly the same time your friends did?)
4. In reality, only about five percent of babies are born on what is technically considered their due dates. Most babies are born anywhere between two weeks before and two weeks after that date -- and they're perfectly term and healthy.
5. Week 1, when talking about the typical 40 weeks of pregnancy, starts on the first day of your period. Even though you're not actually pregnant yet, most caregivers count everything from this date. The number of weeks passed, based on the 40 week term from your last menstrual period (also known as your "LMP" date), is called "menstrual age."
6. Two weeks after your term officially begins, when -- and if -- one of your eggs is fertilized, "gestational age" starts to mark time since baby's conception. This term lasts about 38 weeks, which is the amount of time your baby is actually developing.
7. Knowing how your ovulation date coincided with the potential for conception may give you a hint as to the sex of the baby you're carrying. The reasoning behind what's called the Shettles Method is that "female" and "male" sperm actually behave differently: Female sperm are slower but live longer, while male sperm move faster and die younger.
About SheKnows:
Getting to the heart of what it really means to be a woman, sheknows.com attracts more than 24 million unique visitors. With editors dedicated to providing daily content for women seeking advice, information and a fresh fun take on life, the site is the authoritative source for women ages 18 to 54. The SheKnows audience gains access to exclusive content on entertainment, parenting, health and wellness, money and career, dating, beauty and style and more, and are offered a stimulating, well-rounded online experience enhanced with a vibrant message board community, free games and activities, and captivating blogs.
As one of the fastest growing destinations on the web, SheKnows is consistently one of the top 10 properties for women, generating over 150 million page views each month. For advertisers, opportunities for sponsorship and creative integration go well beyond the banner and make marketing messages an uninterrupted part of the user experience. The company is based in Los Angeles with offices in New York, Scottsdale and Chicago. SheKnows is part of atomiconline.com, a diversified online media company.
# # #