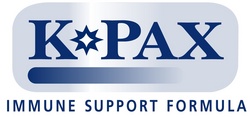 San Francisco, CA (PRWEB) September 8, 2009
K-PAX, Inc. a U.S. based pharmaceutical quality nutrition supplement company has, after many years of study, identified a potent immune support compound (immune modulator) that produces clinically significant results in people with serious medical conditions. The benefits associated with this compound include increased energy levels, improved immune system laboratory markers, and a reduction in the toxic side effects of antiviral medications used to treat HIV/AIDS (i.e. peripheral neuropathy).
"If further studies confirm our clinical experience to date," states K-PAX Medical Director Jon Kaiser, M.D., "this compound may significantly improve clinical outcomes in patients with immune deficiency conditions such as Cancer, HIV/AIDS, and Chronic Hepatitis C, when used together with currently available standard therapies."
From 2001-2003, the Bristol-Myers Squibb Pharmaceutical Company funded a double-blind, placebo-controlled research study of K-PAX Immune Support Formula in people with HIV/AIDS. This research study showed that K-PAX Immune Support Formula could strengthen the immune systems in these patients and the results were published as a "Rapid Communication" in The Journal of AIDS in August 2006. JAIDS 2006;42(5):523-528.
The publication of these results in a peer-reviewed medical journal led to a ground breaking event in the nutrition supplement industry: Third Party Coverage of K-PAX Immune Support Formula by Medicaid and The AIDS Drug Assistance Program (ADAP) in New York State.
K-PAX is currently supporting additional research studies of our immune support products in HIV/AIDS patients in both Canada and the United States. We are also actively working to expand coverage for these important products when prescribed by a physician.
K-PAX believes that, given the high cost and significant toxicity of pharmaceutical medications, coupled with the rise of global infectious diseases HIV/AIDS and the recent swine flu H1N1 pandemic, a safe, effective, and natural compound to strengthen the immune systems of affected individuals could save millions of lives.
K-PAX Immune Support Formula can also be used by anyone interested in promoting outstanding health and longevity.
About K-PAX, Inc.
K-PAX began studying how to naturally improve the immune systems of people with HIV/AIDS, Cancer, and Chronic Fatigue twenty years ago during the height of the AIDS epidemic. We specialize in the development of natural compounds with pharmaceutical and medical industry applications.
For further information, please visit - http://www.KPAXpharm.com
Contact Information
Anne Lahaderne
Director of Operations
K-PAX, Inc.
415-381-7565
# # #