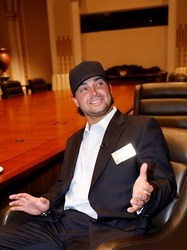 Merriam, KS (PRWEB) September 3, 2009
Nick Swisher of the New York Yankees just signed on as an Entertainment Industry Foundation Ambassador for Lee National Denim Day, one of the country's largest single-day fundraisers for breast cancer which takes place on October 2, 2009. With this commitment, Swisher joins 2009 lead ambassador Christina Applegate to rally the nation in support of breast cancer research.
Swisher lost his grandmother to cancer in 2005 and has been actively supporting cancer research ever since. He is participating in Denim Day to help raise awareness and encourage people across the country to join him in wearing jeans and making a $5 donation to the Women's Cancer Programs of EIF to help support groundbreaking translational research.
"My grandmother was one of the most important people in my life and this is a way for me to not only honor her memory but hopefully help other families who are going through the same struggle," said Swisher. "Campaigns like this give me hope that one day we won't lose people we love from cancer, whether it's breast or brain cancer. It's an honor for me to be able to represent the Entertainment Industry Foundation in such a great cause."
In honor of his grandmother, Swisher, right-fielder for the New York Yankees, has created an online team at denimday.com where fans can join him in raising funds for Denim Day. Additionally, through a random draw, ten lucky fans who join his team and donate $5 will win a signed Yankees baseball cap. The Yankees are currently first place in the American League East and hold the best overall record in Major League Baseball.
Net proceeds from Lee National Denim Day will help advance some of the most promising early detection and treatment research in the country. Specifically, the funds will be used by the Women's Cancer Programs of EIF to:
o Support Lee Laboratories nationwide to create more effective, less toxic treatments and easier access to clinical trials.
o Fund the EIF Biomarker Discovery Project, a multi-year effort led by world class scientists to develop a blood test for earlier detection of breast cancer.
o Create resources with the National Breast Cancer Coalition to offer individuals with breast cancer evidence-based information and train advocates nationwide.
o And this year, funds will also support Applegate's newly launched foundation Right Action for Women, which helps women at increased risk for breast cancer gain access to the information and testing they need to beat the disease.
Companies, schools or organizations that register by visiting denimday.com or calling 1.800.521.5533 will receive a comprehensive participation kit, which includes educational materials in addition to supplies for easy coordination. Since its inception in 1996, Denim Day has raised more than $75 million for the fight against breast cancer.
About VF
VF Corporation is a global leader in lifestyle apparel with a diverse portfolio of jeanswear, outdoor, action sports, image, sportswear and contemporary apparel brands. Its principal brands include Wrangler®, Lee®, Riders®, The North Face®, Vans®, Reef®, Eagle Creek®, Eastpak®, JanSport®, Napapijri®, Nautica®, Kipling®, John Varvatos®, 7 For All Mankind®, lucy®, Splendid®, Ella Moss®, Majestic® and Red Kap®.
VF Corporation's press releases, annual report and other information can be accessed through the Company's home page, http://www.vfc.com.
About The Entertainment Industry Foundation
The Entertainment Industry Foundation (EIF), as a leading charitable organization of the entertainment industry, has distributed hundreds of millions of dollars to support charitable initiatives addressing critical health, education and social issues. Through its Women's Cancer Programs, EIF is committed to saving lives by raising awareness about the importance of early detection of breast and reproductive cancers, providing funds to advance treatment research, early detection methods, and supporting community programs that assist the millions of women and their families at risk of or affected by cancer. For more information, visit http://www.eifoundation.org.
###