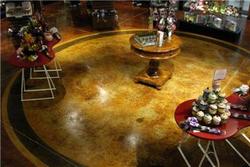 Calimesa, CA (Vocus) September 4, 2009
Stained concrete now offers consumers a fresh, new alternative for updating their interior floors. ConcreteNetwork.com has put together a handy, easy-to-read comparison chart outlining the many benefits of stained concrete when compared to more common flooring materials like tile, wood, carpet, linoleum and others. This one-page chart compares items such as color availability, longevity, customizability, average costs and much more.
Stained concrete's biggest advantage over other materials comes with its design versatility. Stained concrete gives consumers the option to customize color; no two stained floors look the same. Stains penetrate concrete to create rich, translucent hues, and oftentimes results can be made to mimic everything from polished marble to natural stone at a fraction of the cost.
Still not convinced that stained concrete is the right material of choice? The comparison chart also looks at the longevity and performance of concrete floors, concrete's ability to store and radiate heat and its health benefits when compared to carpet and wood floors. Being an inorganic material, concrete does not harbor mold or allergens thus creating an optimal breathing environment.
Visit The Concrete Network to view a complete version of the stained concrete comparison chart.
Established in 1999, The Concrete Network's purpose is to educate consumers, builders, and contractors on popular decorative techniques and applications. These include stamped concrete, stained concrete floors, concrete countertops, polished concrete, and much more. Over 10 million people visit ConcreteNetwork.com per year to research, get ideas and to find a contractor.
The site excels at connecting buyers with local contractors in their area through its Find a Concrete Contractor service. The service provides visitors with a list of decorative concrete contractors throughout the U.S. and Canada, and is fully searchable by more than 20 types of decorative concrete work in over 200 regional areas throughout North America.
Photos courtesy of Staintec in Rancho Cucamonga, CA.
# # #