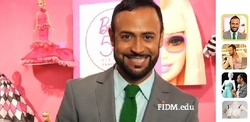 Los Angeles, CA (PRWEB) September 3, 2009
FIDM/Fashion Institute of Design & Merchandising, the West Coast home of Lifetime's "Project Runway," is proud to offer an engaging new series of online video shorts hosted by charismatic "Project Runway: Season 2" star and current FIDM instructor Nick Verreos.
The series is part of an ongoing effort by FIDM to give fans a behind-the-scenes look at the fashion college where the current season of "Project Runway" is filmed. Verreos takes viewers through FIDM's dynamic campus in downtown Los Angeles, California, highlighting special areas of interest, including classrooms like those shown on "Project Runway."
A graduate of FIDM's advanced fashion design program, Verreos first made his mark in the world of fashion in 2001 as the talented designer behind the label Nikolaki. In 2005, he gained widespread acclaim as a contestant on the breakout season of "Project Runway: Season 2."
Videos in the new series include an exciting up-close look at the recent on-campus exhibition of FIDM alumna and "Project Runway 5" winner Leanne Marshall's collection from "Project Runway's" exhilarating finale at Mercedes Benz Fashion Week.
Other videos in the series feature favorite on-campus spots such as FIDM's stunning Juicy Couture Dedication Wall honoring the famed Los Angeles-based company co-founded by FIDM Grad Pamela-Skaist Levy as well as the Barbie™ Dedication Wall. Created to celebrate Barbie's 50th anniversary, the Barbie exhibit features the work of FIDM fashion design students who were given exclusive rights to design clothing for their own special edition of Barbie.
To view the full collection of videos featuring Nick Verreos, visit "Project Runway's" official page at FIDM.edu.
FIDM/Fashion Institute of Design & Merchandising is a private, WASC and NASAD-accredited college offering 18 exciting majors including fashion design, graphic design, merchandise marketing, and business management. With four campuses across California, FIDM is the premier college to pursue any career within the fashion or entertainment industries.
###