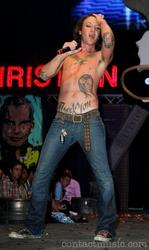 Las Vegas, NV (PRWEB) September 3, 2009
Fashion mogul and entrepreneur Christian Audigier kicked off the opening day of the annual MAGIC Marketplace in style with a high-energy presentation of new designs for his collection of labels featuring models, dancers and a guest performance by Interscope Records' underground glam rap sensation Mickey Avalon. An array of leggy and hard-bodied models and fashionable kids hit the runway to reveal the new looks in denims, street wear, kids and swimwear from the Ed Hardy, Christian Audigier, Crystal Rock, and Paco Chicano lines. Closing out the afternoon show, a dashing Christian Audigier appeared to welcome the crowd of fashion and industry guests and the effortlessly cool Mickey Avalon rocked the stage. Surprisingly, the show was closed with pyrotechnics confetti explosions with Christian Audigier and Don Ed Hardy walking down the center stage and taking a bow.
Avalon performed hits and fan favorites "Jane Fonda," "So Rich, So Pretty," "Mr. Right" and sneak previews of two new songs, "Fast Life" and "Stroke Me" from his highly anticipated second album featuring new collaborations with Kid Rock and Travis Barker and production by mega-hit producer Dr. Luke. Known for his cult following and non-stop tour schedule, the rapper recently came off a 20-city run on the "Blazed and Confused" summer tour alongside Snoop Dogg and Slightly Stoopid. Next up Avalon is set to release a new single to radio this month and put the finishing touches on his album scheduled for a February 2010 release.
In his trademark larger-than-life style, the Audigier brand was highly visible at the Las Vegas Convention Center. Complete with the elaborate grunge-chic Christian Audigier stage, multiple booths, custom Christian Audigier cars on display, and an Audigier Brand Management sky box lounge to oversee operations, Audigier continues to thrive on effective branding and setting trends in mainstream fashion. The bi-annual MAGIC Marketplace ran through September 2, 2009.
For Media Inquiries: Laura Wright, publicist, at Avid Exposure (310) 358-9232 or PR(at)AvidExposure.com
ABOUT MICKEY AVALON: With the ugly but pretty sex appeal of an early Mick Jagger and the crude wit of Lenny Bruce, Mickey Avalon has developed a new genre of rap that deserves a place between 80's glam rock and Hip-Hop's pop funk. Mickey Avalon is an American rapper from Hollywood, California. His debut self-titled solo album was released Nov. 7, 2006 on Interscope/Shoot to Kill Records in association with MySpace Records.
ABOUT CHRISTIAN AUDIGIER: Widely considered one of the most meteoric rises in fashion history, Christian Audigier has parlayed his design experience and business acumen to become a true fashion icon and entrepreneurial sensation in less than four years. Through his collection of international companies, he has launched nine popular brands with over sixty licenses. He oversees an international conglomerate of his designer brands, including Ed Hardy, Christian Audigier, Crystal Rock, Paco Chicano, this includes US and international wholesale distribution and retail stores. Christian made his mark throughout the fashion industry after a fortuitous start at MacKeen jeans. He has contributed to the success of several brands including Diesel, Fiorucci, Bisou Bisou, Levis, NafNaf and American Outfiters. Christian's style is so distinctive that he is known as the "King of Jean."
###