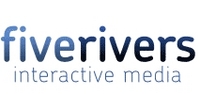 Chicago, IL (Vocus) September 10, 2009
Evision Worldwide announces the launch of Five Rivers Interactive Media, their newest online business venture.
Five Rivers Interactive is a website design and marketing company specializing in intelligent web design, SEO content, branding, print design, and online business consulting. A top-notch team of designers and coders deliver everything from basic websites to complex e-commerce solutions and custom applications. Offices are located in Chicago and Honolulu.
Five Rivers Interactive Media was founded by the three internet marketing experts who head up Evision Worldwide. Through their search marketing agency, they worked with a variety of clients, from startups to major brands, in travel and hospitality, health care, retail, and numerous other industries. What every client had in common was the need to improve their website in some way in order to achieve the optimal benefits of their online marketing programs.
Five Rivers Interactive is a company that addresses this need. The Five Rivers strategic design team builds, or rebuilds, websites that are more than beautiful – they also incorporate all of the components needed to achieve successful online results.
Five Rivers Interactive Services
The Five Rivers team includes experts in every phase of interactive marketing. Talented web designers, internet marketing experts, and business consultants are at every client's disposal to help them integrate their online and offline strategies, content and branding – all of which are vital to overall success.
Five Rivers Interactive Media services include: website design, copywriting, search engine optimization, paid search marketing, online strategy consulting, logo design and corporate branding, print design, online press releases and promotions.
Types of Websites Created by Five Rivers Interactive
Every site is made to order, so that every client's website will be the perfect solution for their needs and goals. Previous projects have included:

Hospitality and travel sites
Sites for online business startups, including beta sites
Ecommerce and lead generation sites
Destination, news and media sites
Brand marketing sites and microsites with unique user experiences
Corporate sites
Mobile marketing websites
B2B and B2C websites
Five Rivers Interactive Media offers web design services in Chicago, Hawaii, and worldwide. If you're interested in finding out more about their web design or internet marketing services, please visit the Services pages on their website or view their online Portfolio. You can contact them directly at 888.354.8883.
Evision Worldwide
At Evision Worldwide, our focus is on successfully planning and marketing online ventures – for our clients and ourselves. If you're interested in receiving business and marketing advice from entrepreneurs on the front lines of online business development, Evision's owners and top-level marketers are available for consulting, speaking and on-site training. We're happy to share our knowledge and experiences so that your business can flourish.
Evisionary Blog
The Evisionary blog is written by the owners and key strategists at Evision Worldwide. This is a place for us to share our observations and strategies from the online business world.
###