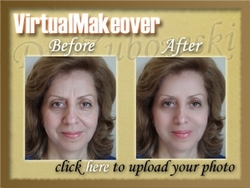 My first piece of advice is to make sure you are doing the plastic surgery for yourself
Paramus, NJ (PRWEB) September 8, 2009
With more than 12 million cosmetic procedures performed each year, the economic downturn hasn't taken a bite out of America's quest to look more youthful. In fact, according to a recent study by the American Society of Plastic Surgeons, some are even turning to plastic surgery procedures like facelift surgery, eyelid surgery, and other anti-aging treatments even in this bad economy, to gain a competitive advantage in the workplace.
The question is: are working men and women ready for the trip back in time?
Now, thanks to a new virtual cosmetic surgery makeover tool on the Robert Zubowski MD Center for Plastic and Reconstructive Surgery website (http://www.drzubowski.com), anyone considering plastic surgery can sample the results by uploading their picture, choosing a procedure, and sampling the results in seconds -- without undergoing surgery. This new technology allows prospective plastic surgery patients in the New Jersey area to view simulated before and after cosmetic surgery photographs for free in the privacy of their own home.
Real Housewives of New Jersey plastic surgeon, Dr. Robert Zubowski, has some other advice on how to prepare for the cosmetic surgery choice you make:
"My first piece of advice is to make sure you are doing the plastic surgery for yourself," says Dr. Zubowski, "and make sure you are not doing it to look twenty years younger - but instead to look the best you can at your real age."
Dr.Zubowski, a Bergen County, New Jersey plastic surgeon, also advises his patients to know exactly what it is they want, to do their homework and research plastic surgery procedures so they know what to expect, to plan for the financial commitment it takes to cover the cost of plastic surgery ahead of time, to have a support group of family and friends ready to help, and to prepare for any complications that may arise by talking to your plastic surgeon and asking questions.
About Dr. Robert Zubowski, Real Housewives of New Jersey Plastic Surgeon
Dr. Robert Zubowski is a renowned Bergen County plastic surgeon who has been addressing the cosmetic and reconstructive needs of women, men and children for more than 20 years. He completed his general surgery residency at New York Medical College and an additional residency at the prestigious Cleveland Clinic Foundation, He has served as an associate professor of Plastic Surgery at New York Medical College and as the plastic surgery specialty director of the Cleveland Clinic Foundation Alumni Association, where he is also an adjunct staff member. He is a former associate director of plastic surgery at Ridgewood's The Valley Hospital and holds a Certificate of Advanced Education in Cosmetic Surgery from the American Board of Plastic Surgery.
Dr. Zubowski is also co-founder of the New Jersey chapter of Image Reborn, a non-profit support group for breast reconstruction patients and he works pro bono for Interplast, traveling to Third World countries to perform reconstructive surgeries for children born with birth defects. He also invests in his own community, formerly serving as president of his town's Board of Health and as a member of its recreation commission.
Dr. Zubowski is a member of the American Society of Plastic Surgeons, the American Society for Plastic Surgery, the American Medical Association, and a Fellow of the American College of Surgeons. He has appeared as an expert on numerous news and talk shows including The View and Fox News, and was recently featured in a segment of The Real Housewives of New Jersey .He was also was voted Bergen County's number one plastic surgeon by the Bergen Record.
For more information about the free virtual plastic surgery makeover tool available on the website, or to schedule a cosmetic surgery consultation, contact Anne Carbone at the Robert Zubowski, M.D. Center for Plastic and Reconstructive Surgery, located in Paramus, NJ. 201-261-7550.
# # #