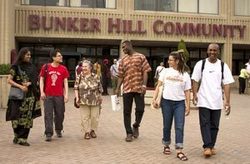 Boston, MA (PRWEB) September 4, 2009
At Boston's Bunker Hill Community College, in the Computer Media Technology Department, a gaming/computer simulation option is offered. Classes begin September 8, 2009. Courses include: creating game characters, animating 3D objects, characters and game scenes, lighting and shading game scenes, and managing the game development process.
In these courses students will learn: the fundamentals of 3D game design, development and production, how to create, construct, shape, texture, and animate objects and characters, how to light and shade scenes, how to incorporate the elements to simulate real-world situations, and how to design and write scripts.
Bunker Hill's gaming program prepares students to begin entry-level positions at local and national gaming and computer simulation companies. With the gaming industry growing into an expected $68 billion industry by 2012, according to a study done by Pricewaterhouse Coopers in 2008, Bunker Hill Community College's Gaming/Computer Simulation program is a very timely educational option to consider.
To learn more about the gaming program, visit: http://www.bhcc.mass.edu/gaming.
###