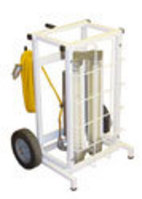 Kemp, TX (Vocus) September 4, 2009
To supplement their range of surface mounted explosion proof paint spray booth lights, Larson Electronics Magnalight introduces a dolly cart style configuration. The EPLCD-48-2L light enables operators to position 10,000 lumens of light directly beside of beneath the parts being painted for better visibility and inspection while maintaining hazardous area compliance.
In addition to a wide range of surface mount explosion proof lights rated for paint spray booth applications, Larson Electronics Magnalight adds a dolly cart style light configuration to the range. Fully encased in an aluminum cage and protected from overspray by a replaceable Plexiglas cover, the EPLCD-48-2L contains 2 high output fluorescent bulbs. Available with 4 foot and 2 foot versions of a Class 1 and 2, Division 1 and 2 lights, the dolly cart light can be wheeled into position within a paint spray booth to target specific areas. For upward illumination, the dolly can be positioned flat and rolled into position.
"The dolly cart style paint spray booth light is a task oriented light that enables operators to supplement overhead or wall mounted lights in the paint spray booth," said Rob Bresnahan, with Larson Electronics Magnalight. "We have had the EPLC-48-4L for some time, which is a cart mounted, explosion proof 4 lamp, 4 foot light with paint spray booth certification, but we wanted to provide a lighter weight, smaller version that could be moved just like the common 2 wheel dolly. By encapsulating a 2 lamp fixture inside the aluminum cage, we offer a protected, easy way to position 10,000 lumens right on a specific area. Since a lot of paint spray booth operators, especially in the aerospace industry, need to paint fuselages and other large parts on all sides, overhead lighting can be insufficient for areas underneath or on the sides of the large, complex parts. This dolly style hazardous location light is useful, since it can be laid flat and rolled beneath the painting target. In anticipation of this, we provide a replaceable Plexiglas cover, so that paint overspray doesn't land directly on the fixture. This cover should reduce cleaning time as well for the operators."
Larson Electronics Magnalight manufactures and sells a wide array of explosion proof lights that are paint spray booth approved. The surface and pendant mount four foot EPL-48 series and the two foot EPL-24 series lights are made in the USA and carry a Class 1 and 2, Division 1 and 2 UL certification ratings. You can learn more about Larson Electronics at magnalight.com or 1-800-369-6671.
###