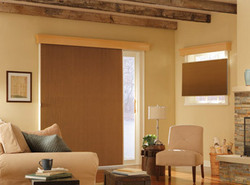 Middleton, WI (PRWEB) September 4, 2009
Bali, a brand of Springs Window Fashions, has been helping Do-It-Yourselfers find window treatments right for their homes for years. To appeal to an even wider consumer market in 2009, the people at Bali have made some exciting updates to their Cellular Shade and Pleated Shade programs.
Cellular Shades and Pleated Shades have always been two of Bali's most popular offerings, and the new additions to these programs were made with modern homes in mind. "We know architecture trends are moving toward an environmentally friendly, green design," said Product Manager Jennifer Modica. "Our energy-efficient Cellular Shades are a good fit for these homes, so we wanted to update the palette with new colors and styles and make them easier to buy -- no matter what size or shape windows you have."
Major updates to Bali Cellular and Pleated Shades include:
· All fabrics and styles now available with cordless operation for safety in homes with children and pets
· New colors to accommodate today's decorating trends
· More fabrics now available up to 144" wide to accommodate today's larger windows
· All fabrics and styles now able to accommodate more specialty-shaped windows
· New fabrics and styles now available with motorization for convenient operation of large, hard-to-reach windows
To keep customers informed about these changes, Bali has embarked on a comprehensive advertising campaign that includes sales bulletins, newsletters, internet advertising and new sample books at all Bali's retail partners. "We're excited to let our customers know about these updates," added Modica. "Our customers have been asking for an expanded range of cordless Cellular Shades and wider fabrics, and it will feel good to know we can accommodate them. They can even order free samples online!"
Visit http://www.baliblinds.com to order free samples, learn more about Cellular and Pleated Shades or see the full range of Bali's top-quality window treatments.
About Springs Window Fashions
Bali®, Graber® and Nanik® are brands of Springs Window Fashions, the Best Experience Company. Springs Window Fashions supplies leading retailers and distributors with a complete line of horizontal and vertical blinds, shades, specialty treatments and window hardware. Springs Window Fashions, based in Middleton, WI. To learn more about all our products, visit http://www.baliblinds.com, http://www.graberblinds.com and http://www.nanikblinds.com.
###