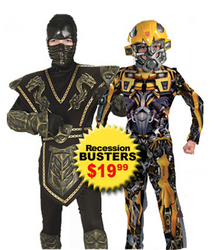 Super Costumes Selections at Super Low Prices.
Edison, NJ (PRWEB) September 8, 2009
CostumeSuperCenter.com, the premier online costume retailer is offering new, high quality Halloween costumes at deep discount Recession Buster prices.
Recession Buster costumes are $14.99 for infant and toddler costumes, $19.99 for kids costumes and $29.99 for adult costumes. Many of these costumes are new styles for 2009 and many are officially licensed costumes. A small sample of the variety of Recession Buster boy's costumes includes GI Joe, Transformers and superheroes. Recession Buster girl's costumes includes Hannah Montana, Disney Princesses and witches. Adult Halloween costumes include hippie, Renaissance, humorous and pirate costumes. These and many other Recession Buster Halloween Costumes can be purchased on their website, http://www.costumesupercenter.com. Look for the Recession Busters banner, logos and category listings.
"CostumeSuperCenter.com understands that times are tough so we are happy to be able reduce our already low prices to Recession Buster deep discount prices," says Philip Krim, VP of Marketing for Costume SuperCenter.
The Recession Buster promotion runs from September 8th through Halloween.
CostumeSuperCenter.com's motto is "Super Costumes Selections at Super Low Prices."
About CostumeSuperCenter.com
In 2005, Steve Mandell, founder of Party City decided to leverage his expertise in the Halloween and costume business to create a costume website that makes purchasing costumes simple and convenient. Mandell recognized the need for increased selections, high quality and more fashion savvy designs in the marketplace and that costumes should be available year round at low discount prices. Thus, CostumeSuperCenter.com was born.
The online store features over 4000 different costumes and accessories for people ages 0-100 and pets too. Unlike other retailers and e-tailers, CostumeSuperCenter.com proudly offers most costumes in plus size too. CostumeSuperCenter.com also has the largest selection of hats, wigs, masks, accessories and make-up, as well as seasonal holiday decorations and props available on one site. Costumes are not just for Halloween. CostumeSuperCenter.com specializes in costumes for all holidays, theme parties, school and theatrical productions, and also sells sexy costumes for adults only.
Contact:
Steve Mandell, CEO
Costume Supercenter
45 Fernwood Avenue
Edison, NJ 08837
(732)486-1000
http://www.costumesupercenter.com
# # #