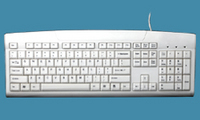 As a corporate policy we usually don't offer discounts on our products because of their value, but we can't sit back during this difficult recession and not do something to help protect children
Landover, MD (PRWEB) September 9, 2009 -
With the new school year starting, health officials are warning of a possible resurgence of the H1N1 Flu (Swine Flu) this fall. Parents and schools are concerned about what should be done to protect our children. For the first time ever, Man & Machine, Inc. the leading provider of infection control keyboards and mice, is offering libraries and schools a 50% discount off the regular price of $60 for the washable UCool keyboard. The UCool keyboard has the look and feel of a standard computer keyboard, but unlike a typical keyboard, may be cleaned with disinfectants or washed in soap and water.
Water, liquid cleaners and disinfectants may damage or destroy the sensitive electronics inside a typical keyboard making them impossible to clean. Studies have shown public keyboards can have more bacteria then a toilet seat. The UCool keyboard has sealed electronics and drainage holes which allow liquids to pass through the device when washed.
"As a corporate policy we usually don't offer discounts on our products because of their value, but we can't sit back during this difficult recession and not do something to help protect children," said Clifton Broumand, CEO, Man & Machine, Inc. "Where in a school or library is the flu virus more likely to hide then a computer keyboard which is used by hundreds of hands and can't be properly cleaned? I want to see every student and library patron in the nation safely using one of our keyboards," Broumand adds.
To qualify, orders must be placed by a qualified school system or library directly with Man & Machine by October 30, 2009. Half price discount applies to "hygienic white" UCool keyboard only. For complete details contact Man & Machine, Inc. at info@mmimd.com or call (301) 341-4900.
Other Products for Schools and Libraries
Mighty Mouse 5 - a waterproof 5 button optical mouse designed for easy cleaning with standard disinfectants.
Private Eye Monitor - This unique monitor features a tamper-proof 3M filter built into a quality LCD monitor. The Private Eye monitor allows for private web surfing in libraries. The filter can not be removed by the user.
Company Background
Man & Machine, Inc. is an international provider of leading edge computer accessories focusing on medical, governmental, industrial and general office environments. Products include waterproof keyboards and mice, mobile keyboards for the RIM Blackberry, LCD privacy monitors for HIPAA compliance and financial security, and customized products to meet client's unique applications. The company was founded in 1982 outside of Washington, DC with satellite offices in New York, Tennessee, Missouri, The Netherlands and China. Man & Machine, Inc. adheres to a strict environmental code for the sustainability and protection of our environment.
###