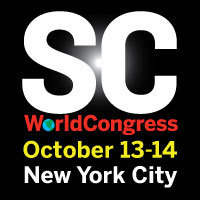 The Security Innovators Throwdown was created as a platform for discussing and celebrating the ongoing innovation of the information security field
New York (PRWEB) September 4, 2009
Today, SC Magazine called for submissions for participants in the inaugural Security Innovators Throwdown, during which leading young companies, chosen by SC Magazine, will present their goals for their newly developed technologies or services before a judging panel of experts. The goal of the event is to help find ground-breaking cybersecurity technologies and services, showcase them before the industry, and educate and gather the venture capital and investor community to support continuing innovation. The event will be held at the second annual SC World Congress Conference and Expo to be held in New York City on October 13-14, 2009 at the Sheraton New York Hotel and Towers.
Twelve finalists from submitted entries will be selected to participate in the Innovators Throwdown, "The Security Innovators Throwdown was created as a platform for discussing and celebrating the ongoing innovation of the information security field," said Illena Armstrong, editor-in-chief, SC Magazine. "We look forward to honoring the best and brightest young companies and helping to facilitate the continuing investment in developing information security services by VCs."
The Security Innovators Throwdown will open for two hours each day of the SC World Congress on the trade show floor. Each finalist will have five minutes to present an overview of their business to a panel of experts made up of security professionals and venture capitalists.
Participants will have their new product or service gain the hugely valuable insight and feedback from the panel of expert judges. Each will then be awarded a score based on a set of pre-defined criteria.
The top five innovators from the Security Innovators Throwdown will then be featured in a special section of SC Magazine after the SC World Congress that will discuss the evolution of the information security market and their relevancy in the industry.
If their offering is intriguing enough, it may even catch the eye of an invited cluster of VCs, angel investors and others in attendance that might be looking to back the next big thing.
"Presenting the concept and potential of your business to potential investors is a key first step to attracting additional financing," said Becky Bace, member of the security investment team for Trident Capital Innovation and Innovation Throwdown panel judge. "It is through this process that VCs identify firms that have growth potential in today's security market and help such firms fulfill that potential. The Innovation Throwdown is unique, in that many, many potential investors will be in attendance, and a full panel of experts will be providing feedback and guidance for participants to better plan for the growth of their businesses."
SC Magazine is looking for individuals or start-up companies that want their technologies seen, critiqued and championed through the influential power and industry reach of SC Magazine. Additional information on event details and how to apply can be found at http://www.scmagazineus.com/SCWCThrowdown/section/1013/.
A full list of SC World Congress speakers, a conference agenda, media partners, sponsors and participant registration can be found at http://www.scworldcongress.com.
About SC Magazine
SC Magazine provides IT security professionals with in-depth and unbiased information through timely news, comprehensive analysis, cutting-edge features, contributions from thought leaders and the best, most extensive collection of product reviews in the business. By offering a consolidated view of IT security through independent product tests and well-researched editorial content that provides the contextual backdrop for how these IT security tools will address larger demands put on businesses today, SC Magazine enables IT security pros to make the right security decisions for their companies. The brand's portfolio includes the SC World Conference and Expo, SC Magazine Awards, SC Directory, SC Magazine Newswire and SC Magazine IT Security Executives Forums
Media:
Matthew Mors
206-992-7518
###