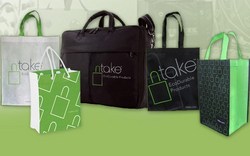 The new name and logo offer a perfect fusion of mission and product, combining the 'N' from 'environment' with the short and simple word 'Take', which communicates the many uses of our bags
Southport, CT (PRWEB) September 9, 2009
P.O.P. Packaging, a leading manufacturer of reusable Polyfabric™ and other environmentally-friendly custom bags, today announced its plan for major expansion into the U.S. and Mexican markets. As part of a strategic growth plan, the Edmonton, Alberta-based company has opened a new corporate headquarters in Southport, CT and began operating under the name N'Take to better express the firm's commitment to waste reduction and environmental stewardship.
As part of the expansion, N'Take has established a U.S. corporate office and a Mexican manufacturing facility. N'Take has also more than doubled its sales force and recently hired Michael J. Lowery to serve as its new Vice President of Sales as well as Rhonda Holgersen as its Controller. The company is now prepared to further satisfy rising demand for its wide-range of products and services with increased presence in Dallas, TX, Golden, CO, Jacksonville, FL, Los Angeles, CA, Naugatuck, CT, Philadelphia, PA and Mexico City.
"We have experienced tremendous success in Canada and are poised to continue our exponential growth as N'Take in Canada, Mexico and the U.S.," said Tom Wyckoff, Partner and Chief Executive Officer of N'Take. "With the continued development of our environmentally-friendly product lineup, we hope to help eliminate the prodigious waste and unnecessary greenhouse gases created by the billions of paper and plastic bags annually thrown away by consumers. To date we have helped to eliminate more than a billion of these environmentally-hazardous bags."
Among its hundreds of North American clients, N'Take has a longstanding relationship with Sobeys, Canada's second-largest grocer, as well as Barnes & Noble. "Barnes & Noble's experience with N'Take (formerly P.O.P. Packaging) has been wonderful," said Jeanne Allen, Director of Product Development for Barnes & Noble. "The production of our custom tote was top quality as was their cooperation, collaboration and dedication to being right on target with the Barnes & Noble strategy. Add in N'Take's social responsibility and we simply couldn't ask for a better, well-rounded match for our reusable packaging needs."
Since 2003, N'Take's complete line of environmentally-friendly carrying solutions for the grocery, convention, hospitality, medical and retail industries has served three main functions: providing its commercial clients with additional branding opportunities on durable shopping bags; reducing retailer variable costs over the long term by eliminating the need to continuously purchase single-use bags which they have to giveaway; and creating a positive, value-added and lasting consumer/brand interaction at point of sale that travels into the home and back. In particular, the Polyfabric bags (short for polypropylene fabrication) are unique in that they have the look and feel of cloth, but are less expensive to produce, have a minimal carbon footprint as compared to single-use bags and have been shown to last for more than five years.
"The new name and logo offer a perfect fusion of mission and product, combining the 'N' from 'environment' with the short and simple word 'Take', which communicates the many uses of our bags" according to Steven Searle, one of the co-founders of N'Take. "As N'Take continues to grow and improve, two things will remain constant: our dedication to help preserve the environment and the continued cutting-edge design and development of innovative carrying solutions for our clients and their customers. Consumers and retailers around the world care deeply about each of these issues, and we are proud to offer an eco-friendly model that delivers for all parties. That's how N'Take puts more into every bag."
About N'Take
N'Take is a global provider of unique eco-durable carrying solutions for the grocery, convention, hospitality, medical and retail industries that satisfies the highest consumer demands in an environmentally friendly fashion. Founded in 2003, N'Take strives to provide a solution to the excessive environmental cost and non-recycled waste of paper and plastic bags. Please visit http://www.ntake.com to learn more about our environmentally friendly reusable Polyfabric™ and other custom carrying solutions.
###