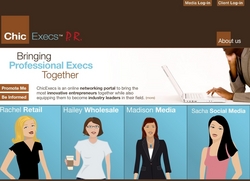 San Diego, CA (Vocus) September 4, 2009
ChicExecs PR adds a new option in their innovative automated system that allows Media editors to directly message ChicExecs' 70 Clients with questions about products and upcoming story ideas, all while keeping e-mail addresses anonymous. The messaging system is modeled after other popular social networking sites, where both Media professionals and business owners can create profiles, interact with each other to request samples for upcoming stories and post when products are featured, creating an innovative PR Social Networking site that is first of its kind.
This new Media and Client Social Network was first launched in March of 2009, allowing ChicExecs PR Clients to create their own accounts in order to manage and customize their individual PR experience at an affordable cost. Media partners began receiving targeted pitches monthly regarding their categories of interest—Clients are segmented into subjects such as Parenting, Fashion, Pets, Health, Wedding and Home. Interest was immediately generated among publications including Oprah Magazine, Rachel Ray Magazine, Women's Health, Parenting Magazine, Brides Magazine and many more.
As the ChicExecs Social Media Network continues to evolve, many new features are being implemented. A recent addition to the system offers facilitation of direct Client and Media communication. Media subscribers are now able to log in to their free account at http://www.ChicExecsMedia.com and can browse through all of ChicExecs PR Clients and product information, directly request samples, download hi-res images and even post when a product has been featured… all with the click of a button. More importantly, Media members can take advantage of focused and to-the-point information, organize and keep track of product sample requests, and concentrate on connecting with only those Clients they are most interested in.
The new messaging option is an advanced feature of the recent stage in the ChicExecs Media and Client Social developmental process. ChicExecs Media users can look forward to making the most out of the automated social system. They will be capable of posting story idea requests and then receive relevant pitches from PR Clients, all within a controlled network where exchanging personal emails is not encouraged, therefore eliminating the middle man "telephone" game.
The Media does not have to spend valuable time searching for content and story ideas any longer. Now they can reach "out of the box" with ChicExecs PR. The Media can join the ranks of publications looking for convenience and hot new products at http://www.ChicExecsMedia.com
About ChicBlvd Inc.:
ChicBlvd Inc. owns and operates ChicExecs PR, one of three divisions within the company. With years of experience in advertising, marketing, and public relations, it's no wonder this company is succeeding in these hard economic times. After developing ChicBlvd Magazine and the successful product launch of chicBuds electronics, the company began recognizing a need in the media world. ChicExecs PR has spent 5 years hand selecting over 3,000 unique consumer good product companies and websites to partner with and market their 70 plus Clients. Clients of ChicExecs PR have been featured in magazine publications such as Cosmo, InStyle, Us Weekly, Parenting, Pregnancy & Newborn, Modern Bride and many more. TV media outlets include Extra Tv, WE tv, and FOX News and Social Media Influencers.
###