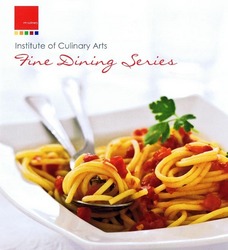 Chicago, IL (Vocus) September 5, 2009
The Institute of Culinary Arts at Robert Morris University Illinois is proud to present its fourth annual Fine Dining Series, open to the public. Please join us for one or several outstanding dinners featuring the culinary expertise of our renowned chefs and students. Each event has a prix fixe menu with five courses, with a $40 donation per person. Reservations are required and space is limited. Non-alcoholic beverages are served but corkage service is available. Dinners start promptly at 6:30 p.m.; guests should arrive no later that 6:15 p.m. The dinners are held at the main RMU Campus in downtown Chicago, 401 S. State Street, and at the Orland Park Campus, 82 Orland Square.
In the fall, the featured dinner is called "A Bountiful Harvest" and will be held on Saturday, September 26 at the Chicago campus and on Saturday, October 17 at the Orland Park campus. This dinner will include the colors and textures of fall's harvest with garden-fresh herbs and vegetables planted, cultivated and harvested by RMU culinary students. Everything on this menu is organically grown.
"A Taste of America," at the Orland Park campus only, is set for Saturday, November 7, 2009. It will feature diversity from the USA with hearty, plentiful and delicious dishes representing uniquely American traditions.
Polish Cuisine, or Kuchnia Polska will be served on Saturday, January 9, 2010 in Chicago and on Saturday, January 23 in Orland Park. With Chicago having the largest population of Poles outside of Poland itself, RMU is proud to present the delicious cuisine of Polish food with a mixture of Slavic and Germanic culinary traditions.
An annual favorite, French cuisine is the featured meal in February. Chicago hosts "Vive La France!" on Saturday, February 13, 2010 and Orland will host it on February 27. An enticing menu of classic French dishes is sure to win your heart.
The most popular ethnic cuisine in this country is Italian - and our Italian cuisine dinner has become the most popular of the series. So, be sure to make your reservations early. The Chicago campus dinner is on Saturday, April 10, 2010 and the Orland dinner is on Saturday, April 24. Mangia Bene!
RMU Culinary will round out the series with something a little different: Taste of the Islands on Saturday, May 15 in Chicago and on Saturday, May 22 in Orland Park. From Hawaii to the Caribbean, island cuisine is a colorful mixture of tastes and textures, both sweet and spicy. You won't want to miss this final dining experience of the season.
Online reservations can be made at robertmorris.edu. Credit card only and dinners must be paid in advance at the time of reservations. Cancellations are not refundable. Call 312-935-6918 for reservation information. Special note: Attend a minimum of four separate dinners for a $35 donation per dinner per person. All four dinners must be paid in advance at time of reservation.
Robert Morris University Illinois is a not-for-profit, baccalaureate and graduate degree granting institution, accredited by the Higher Learning Commission of the North Central Association of Colleges and Schools.* The University serves over 8000 students interested in getting an education in business, graphic arts, nursing and health care, culinary and computer studies at its main campus in Chicago, as well as at locations in DuPage, Orland Park, Bensenville, Springfield, Peoria, Schaumburg and Lake County. For more information, call 800-RMC-5960 or visit the web site at http://www.robertmorris.edu
*Higher Learning Commission of the North Central Association of Colleges and Schools, 30 N. LaSalle Street, Chicago, IL 60602, 312-263-0456.
###