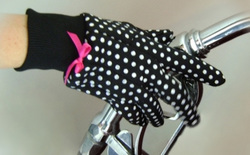 Don't be a Ditz, Cover Your Mitts
Vista, CA (Vocus) September 4, 2009
"Don't be a Ditz, Cover Your Mitts"--So says the catchy slogan of an up and coming fashion company catering to the cleanliness and femininity of women.
Jean Schipper of Laguna Beach, California was inspired by her friends from New England, to create an innovative product for women today. What she created are Pump Gloves - the perfect accessory for the busy, stylish, and dirt conscious woman.
Pump Gloves are the fashionable and hygienic alternative to pumping your gas barehanded. Long gone are the days of full service gas stations where the kindly employees would take care of everything and leave you relaxing in the driver's seat. Now everyone is expected to do all the dirty work, and it is definitely dirty.
Which is where pump gloves come in. They are insulation against grease, grime, gasoline, and germs that are never cleaned off pumps at gas stations. Nobody likes to handle oily looking pumps, especially when they stop to think how many others before have touched them. It is especially important for people to protect themselves against sickness in this time of year when the fear of swine flu and colds lurk behind every corner. Just grab these gorgeous guys out of the glove compartment and get ready to pump some gas.
Just because women can (and do) pump their own gas, doesn't mean they can't make a fashion statement as well. The creators of pump gloves looked to the flirty and modest styles of the fifties for inspiration. The gloves offer full cover of the hands and extend to the wrist. They come in a few trendy color designs - black with white polka dots, light pink with white polka dots, and chic black - and all three versions come with a cute pink bow at the wrist that ties together the posh feminine style.
Not only were they designed with style in mind, but also utility. The gloves are made from medium-weight polyester with soft fleece inside - the perfect material for the job as it is comfortable and completely machine washable. They can just be thrown in the dryer on a tumble dry setting which helps to maintain their size.
With less mess at the pump women can feel confident and clean on their way to work, school, or to pick up the kids. It's the perfect glove to accompany today's women wearing many hats!
While Jean's main goal throughout the process was to create a quality product that was functional and stylish, she also wanted to indulge her humanitarian spirit. She has done this by donating 5% of each purchase to the Princeton Environmental Institute at Princeton University which focuses on environmental research, education and outreach to the next generation of environmentalists.
Pump Gloves have already made their debut in Coast Magazine, Gifts and Decorative Accessories, and Amour Creole. For more information check out their website at http://www.pumpgloves.com.
For further information, please contact:
ChicExecs PR
760.992.9113
http://www.chicexecs.com
About ChicExecs PR:
ChicExecs PR is an "out of the box" PR company which represents over 70 clients. ChicExecs has created an innovative approach to PR dedicated to helping small-medium business receive media coverage. Our revolutionary automated system is changing the face of PR. For more information visit http://www.chicexecs.com.
# # #