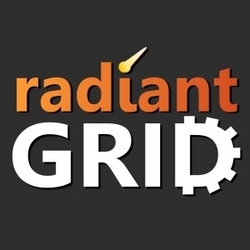 Seattle WA, USA and Stockholm, Sweden (PRWEB) September 4, 2009
RadiantGrid Technologies has announced that their RadiantGrid™ Platform has integrated Digital Vision's DVO tools into its media workflow services. The versatile DVO tools provide restoration, enhancement, and correction capabilities not previously available in the tapeless environment. The RadiantGrid Platform, successfully in place at a number of networks, content management and media companies, enables end-to-end digital processes for content creation, management, transformation and distribution in a seamless and secure workflow.
Digital Vision's award winning DVO (Digital Vision Optics) is a collection of more than 20 resolution-independent image processing tools that can be used to sharpen images, remove dust and drop-outs, change and control grain, and convert formats. The DVO Restore, DVO Enhancement and DVO Convert capabilities include alias, sharpen, re-grain, and brickwall filters, in addition to inverse telecine, scratch and dust removal, deinterlacing and frame rate conversions, and upscaling. In today's marketplace of content, powerful picture enhancement tools are increasingly critical.
Kirk Marple, President and Chief Software Architect, RadiantGrid Technologies adds, "By integrating Digital Vision's technologies, we can offer customers the industry's best image processing support for broadcast and digital cinema solutions. Being able to offer capabilities only previously available in a hardware solution is critical for customers like PBS who are moving to tapeless workflows."
Simon Cuff, President of Digital Vision noted that "RadiantGrid has developed vibrant software solutions for workflows that are becoming critical for advertisers, networks, digital cinema and in content management. Digital Vision's DVO has set a standard for image processing tools that will integrate gorgeously with the RadiantGrid Platform. This integration presents an excellent solution for content creators and holders alike and we are delighted to see DVO in this workflow."
About RadiantGrid Technologies:
RadiantGrid Technologies is an independent software vendor which develops and markets the RadiantGrid™ Platform - a leading-edge media workflow services platform targeting Broadcast & Cable Operators, Content Owners, Advertising Vendors, Digital Cinema Companies, and User-Generated Content Portals. The RadiantGrid Platform provides media transformation capabilities including grid-enabled transcoding, multi-format transcoding, multi-track assembly, standards conversion, and closed caption extraction and upconversion, in addition to metadata management, storage management, and media publishing.
For more information about RadiantGrid Technologies, visit:
http://www.radiantgrid.com
About Digital Vision
Digital Vision provides innovative image restoration, enhancement, colour correction and data conforming systems that major movie studios, television networks and post-production facilities use to master and deliver feature films, TV programs and commercials. The company's Nucoda product line provides a strong suite of products for tapeless and non linear grading for HD broadcast and 2k/4k digital intermediate productions. The company's award-winning products are a standard of the media and entertainment industry and are deployed at top facilities and broadcasters around the world.
Digital Vision AB was founded in 1988 and is headquartered in Stockholm, Sweden, with three wholly owned subsidiaries, Digital Vision (US) in Los Angeles, California; Digital Vision UK in London, England; and Digital Vision in Hong Kong, China. The company maintains its global presence through a network of qualified distributors. Digital Vision is listed on the Stockholm stock exchange. For further information, go to http://www.digitalvision.se.
###