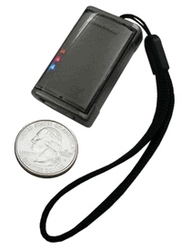 This changes the landscape for both the consumer and commercial use of GPS devices. Sports enthusiasts can accurately map their activities, tourists and historians can accurately map landmarks, agriculture and related commercial businesses can accurately map their crops, and real estate agents in the field can geo-tag a home's location and send it to a prospective buyer
San Jose, CA (PRWEB) September 5, 2009
AptoLink™, a system design and services company that creates innovative consumer electronics and data communication products, announced today the iBlue 886 Bluetooth-GPS Receiver - a highly accurate, low power GPS (Global Positioning System) receiver with accuracy that can change how users apply GPS technology in their daily lives. The 886 has typically 4 to 5 feet (about 1.5 meters) of accuracy in open sky, or outdoors, and has typically 8 to 10 feet (about 3 meters) inside a house or in deep urban canons, in other words, in a city with tall buildings.
Most GPS devices today have fair accuracy - about 15 meters or 50 feet - but they come in larger units that cost hundreds of dollars. Most of these GPS receivers are larger than a Smartphone and are inconvenient to carry around. In addition, GPS receiver performance in a Smartphone can be even poorer than a standalone GPS receiver or a larger GPS device. There is no need to carry around another bulky device when you have the iBlue 886 BT-GPS receiver, it is small and compact and obtains a cold fix in about 45 secs. The device can fit in your pocket, a purse, in a glove box or truck of your car, in a golf bag, in your cycling shirt pocket, or in your school or hiking back pack and still retain its fix with a high level of accuracy while GPS data is logged.
"Users now have the availability of knowing EXACTLY where they're located with a compact and inexpensive consumer-level GPS device," said Young Park, VP of Business Development and Sales. "This changes the landscape for both the consumer and commercial use of GPS devices. Sports enthusiasts can accurately map their activities, tourists and historians can accurately map landmarks, agriculture and related commercial businesses can accurately map their crops, and real estate agents in the field can geo-tag a home's location and send it to a prospective buyer," he continued.
The iBlue 886 weights less then 1 ounce and its dimensions are approximately: L =1.6 inches (37 mm), W = 1 inch (24 mm), H = 0.7 inch (15 mm)…VERY small and compact! It lasts up to 11 hours between charges and uses Bluetooth v1.2 to connect to a handheld's internal Bluetooth to pass the GPS data to the handheld.
"Our customers use the iBlue 886 for dynamic outdoor activities such as cycling, hiking, skiing, climbing, rollerblading and running," mentions Park. "For other activities, our customers use it for locating their personal assets and interests - home, business, car, kids school; golf ball locations; locating fishing spots; locating parked car; marking fertilizer boundaries for agriculture; trapping; locating their favorite café and sharing with friends. The uses and applications are endless. And when used with DataTap - a mobile GPS data-logging software to capture GPS data in streaming and discrete formats - the user has the ability to take their GPS data and view it on Google Maps or Google Earth for a visual experience."
DataTap features include: compass that displays true north and its bearing, speed, latitude, longitude and altitude, the number of satellites that are visible and in use, UTC time and date, fix status, font size, and English and Metric units - feet & mph or meters & km/hr. DataTap is compatible with WinCE, WinMobile and Palm operating system devices. The compass feature is not available on the Palm version.
Product Availability:
Both the iBlue 886 GPS Receiver and DataTap Mobile GPS Software are available at AptoLink website - http://www.AptoLink.com.
About AptoLink™
AptoLink is a system design and services company, creating innovative consumer electronics and data communication products including web-based applications. Products are used by everyday consumers as well as for commercial applications. AptoLink also provides hardware and software design services and manufacturing services to enable the realization of third-party designs. AptoLink solutions are available for channel resellers, VARs and OEMs to license for resale.
###