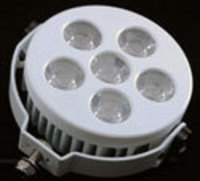 We originally came up with this LED flasher module concept together to provide area illumination with a safety measure for forklifts in large warehouse and manufacturing environments
Kemp, TX (Vocus) September 5, 2009
By combining an inline flashing module with and extensive line of LED lights, Larson Electronics Magnalight now offers vehicle and equipment operators a new type of LED beacon that also provides task oriented illumination.
"We originally came up with this LED flasher module concept together to provide area illumination with a safety measure for forklifts in large warehouse and manufacturing environments," said Rob Bresnahan with Larson Electronics. "Normal LED beacons, like our LEDB-2 are designed to flash and be seen easily at distance. In other words, I can look across a building or a highway and see an amber LED beacon like our Class 1 CL1B LED beacon series. However, the operator that has the LED beacon mounted on their equipment has very little illumination available for task lighting. This new flasher module combines high lumen output LED lights with a flashing module. Now the operator has the illumination they need to navigate forklifts, vehicles or equipment in and out dark areas, while still offering the safety aspect up close and at distance. Since most manufacturing and warehouse facilities have a plenty of flashing lights on production lines, routing areas, etc. we offer our LEDs, like the 180 lumens LED3W-1S LED light in a variety of colors including red, blue, green, amber and white so that operators can distinguish unique operations with a different color. We even offer infrared LED models in 850nm and 940nm for covert style LED beaconing as trailing lights or other signaling communication between military vehicles. Our entire line of LEDLB series LED lights are Buy American Compliant and the flasher module is equipped with a switch that enables operators to toggle between normal illumination and LED beacon mode. Our LED lights operate on 9-32 volts, including 12 and 24 volts and we offer inline IP rated inline transformers so they can be operated from 120 volts as well."
Larson Electronics produces and sells a wide variety of LED lighting for vehicles, equipment and hazardous location areas. The LEDLB-24 and LED10W-6R are widely used on military vehicles and the LEDLB-4 is a commonly used spreader light on boats around the world. You can purchase the new LEDFL-1 inline flashing module and related LED lighting on magnalight.com or contact 1-800-369-6671.
# # #