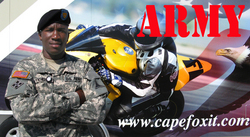 Our staff understands that our men and women in uniform are our nation's greatest resource. After every course they should leave knowing they have given their very best to help protect Soldiers at home. This is a commitment that CFPS instructors take very seriously
Manassas, VA (PRWEB) September 5, 2009
Cape Fox Professional Services announces the completion of over 500,000 Soldiers trained through the Army Traffic Safety Training Program (ATSTP). ATSTP offers both Privately Owned Vehicle (POV) and motorcycle training courses to Army Soldiers, augmented with significant training enhancements designed to obtain maximum benefits from the program, at 52 installations world-wide. The objective of ATSTP is to provide behavior modification training in order to significantly reduce deaths and injuries as a result of traffic and recreational accidents and ultimately, to preserve the combat power of an Army at war.
The program boasted 61,047 Army motorcycle riders and 438,953 privately owned vehicle (POV) drivers trained in the program through the end of July.
According to statistics from the United States Army Combat Readiness /Safety Center, the Army is experiencing a reduction this year in POV and motorcycle fatalities compared to years previous. Since April of 2006, CFPS has trained a total of 500,847 Soldiers and civilians of the United States Army. "I take great pride in the success of our effort and am very confident in the results: accidents prevented, families preserved and lives saved. As a retired Army officer, I understand the importance of preserving the fighting capability of the force," said Joseph W. Blackburn, Lieutenant Colonel, United States Army (Ret.) and Program Manager of CFPS's Army Traffic Safety Training Program.
Army leadership has zeroed in on motorcycle training, making it mandatory that proper training is completed before Soldiers are able to ride their motorcycles on or off base. Recently a three-star General visited a CFPS class on an Army motorcycle training range, marking the attention and personal effort that Army leaders are taking to promote safer motorcycle riding. "When a general takes that level of personal interest in a program you understand how important this is to the Army," states Blackburn. "Senior commanders have made a commitment to remain engaged in the safety of Soldiers on and off duty."
The majority of CFPS instructors have served in the military or have prior law enforcement experience. They understand Soldiers, which aids in delivering effective training and educational messages. CFPS instructors are dedicated and personally committed to the fight to save our Soldiers lives, and show that passion for safety and the Armed Forces continuously through training."Our staff understands that our men and women in uniform are our nation's greatest resource. After every course they should leave knowing they have given their very best to help protect Soldiers at home. This is a commitment that CFPS instructors take very seriously," says Blackburn.
ATSTP provides a worldwide, comprehensive, behavioral modification training program designed to combat aggressive driving for service members identified as high-risk vehicle operators. Centrally coordinated by the Army's Installation Management Command (IMCOM) and managed at the Region and installation level. Further, ATSTP provides commanders a mechanism to meet DODI and Army Regulatory training requirements at no cost to Soldiers and DA Civilians. Additional training is conducted through the use of mobile training teams to meet requirements at installations not afforded dedicated trainers as specified in the base contract.
Cape Fox Professional Services manages and maintains three training programs, one each for the Army, Navy and Marine Corps. As well as offering training to Army posts in the United States, CFPS offers training at facilities in: Puerto Rico, Korea, Japan, and multiple locations in Europe.
###