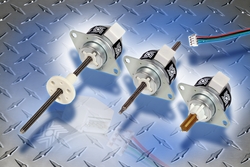 Boston, MA (PRWEB) September 7, 2009
Haydon Kerk Motion Solutions, Inc., a premier manufacturer of linear motion systems products, introduces the G4 Canstack Linear Actuator, built for extended reliability and high performance. The first linear actuator to be released in the new product line is the 25mm diameter.
The Haydon™ G4 linear actuator outperforms the competition. This new design utilizes optimized teeth geometry along with high energy neodymium magnets.
With higher output force across the entire speed range compared with previous designs, the G4 also contains the latest custom engineered plastics and an over-sized spline resulting in a more robust and longer life product. Another enhanced feature resulting in superior durability is the use of larger bearings for greater rotor support and higher axial load capability.

The G4 Canstack linear actuator provides exceptionally high linear force-to-size ratios and is ideal for precision linear motion systems in a variety of applications including medical equipment, bar code scanning devices, printing equipment, laboratory instrumentation and other mechanisms requiring high force in a small package.
The overall enhancements of the G4 results in a precision linear actuator that's more durable and powerful than other comparable linear actuators found in the marketplace today. There are 3 configurations available as with other Haydon stepper motor linear actuators; Captive, Non-Captive, and External Linear.
For more information on the G4 Canstack, Haydon Kerk's linear actuators or stepper motors, please contact Haydon Kerk Motion Solutions at info@HaydonKerk.com.
About Haydon Kerk Motion Solutions, Inc.
Haydon Kerk Motion Solutions, Inc. is the joining of two world class brands in the field of linear motion; Haydon Switch and Instrument, Inc. and Kerk Motion Products, Inc. Together, the company now offers a broad range of linear motion products. Recognized as a leading manufacturer of stepper motor based linear actuators, rotary motors, lead screw assemblies, and linear rail and guide systems used in niche market applications, Haydon Kerk Motion Solutions offers a wide range of high performance and precision products. Haydon Kerk Motion Solutions has developed industry-renowned brands built upon its technical innovation, versatility, customization, product durability, and dedicated customer service. For more information, please visit our website at http://www.HaydonKerk.com.
# # #