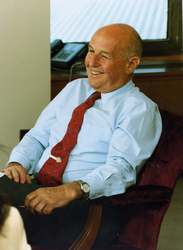 Allendale, Mich. (Vocus) September 5, 2009
Hundreds of family members, friends and colleagues from across the country will gather at Grand Valley State University on Friday, September 11 to celebrate the life and accomplishments of L. William Seidman at the university he helped establish. Seidman, founding chair of Grand Valley's board and former head of the FDIC, died May 13 at age 88.
The only public memorial for Seidman will be 3 p.m. on Friday, September 11 in the Louis Armstrong Theater of the Performing Arts Center on Grand Valley's Allendale Campus. The memorial will be followed with a reception in the Grand River Room of the Kirkhof Center. The event will be carried live by WGVU-TV on Channel 35-1. It will also be webcast live at http://www.gvsu.edu/seidman.
Memorial speakers will include Seidman's son Tom, as well as Richard M. DeVos, co-founder of Amway and chairman of the NBA Orlando Magic. DeVos is a former Grand Valley trustee and served on the university's governing board with Seidman. He now serves as general chairperson of the Grand Valley University Foundation. Also speaking is Arend D. Lubbers, president emeritus of Grand Valley State University; Birge Swift Watkins, former national investor outreach director, FDIC/RTC and former staff assistant to President Ford; Roger Porter, IBM Professor of Business and Government, Harvard University and Sue Herera, founding member of CNBC and co-anchor of "Power Lunch."
MEDIA CONSIDERATIONS: The memorial will be open to media coverage. An audio/video mult box will be provided. A media availability with select family members and dignitaries will follow the memorial event. The event will be uplinked live for broadcast outlets; contact Brian J. Bowe at (616) 331-2221 for satellite coordinates.
The event is open to the public, but RSVPs are requested. For more information, visit http://www.gvsu.edu/seidman or call (616) 331-2180.
As one of the founders of Grand Valley State University, Seidman helped galvanize local support for the establishment of a public four-year university in West Michigan. Beyond his connection to Grand Valley, Seidman was a remarkable man. He served in the U.S. Navy during World War II and earned the Bronze Star for service in the invasion of the Philippines, Iwo Jima, and Okinawa. He was the managing partner of Seidman and Seidman (now B.D.O. Seidman), an international accounting firm, and was president of WZZM-TV in Grand Rapids, which he helped found. In 1961 he was elected as a delegate to Michigan's Constitutional Convention, which re-wrote the state's turn-of-the-century document. In 1974 he joined President Gerald R. Ford's administration as an economic advisor and later became chair of the Federal Deposit Insurance Corp., a position he held from 1985 to 1991. He also served as head of the Resolution Trust Corp. in the aftermath of the Savings and Loan crisis. In later years, Seidman served as chief commentator for CNBC.
About Grand Valley State University
Grand Valley State University (http://www.gvsu.edu), established in 1960, is a four-year public university. It attracts nearly 24,000 students with its high quality programs and state-of-the-art facilities. Grand Valley provides a fully accredited liberal undergraduate and graduate education and has campuses in Allendale, Grand Rapids and Holland, and centers in Muskegon and Traverse City. Grand Valley is the comprehensive regional university for Michigan's second largest metropolitan area and offers 77 undergraduate and 28 graduate degree programs. The university is dedicated to individual student achievement, going beyond the traditional classroom experience, with research opportunities and business partnerships. Grand Valley employs more than 1,700 people and is committed to providing a fair and equitable environment for the continued success of all.
Contact
Brian J. Bowe
(616) 331-2221
###