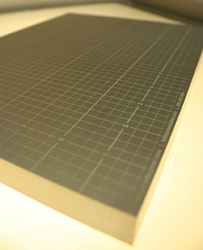 We laser etch our bases because laser etching is the most precise way to create a perfectly straight grid pattern, and it's permanent. Absolutely no printing chemicals or scrapers will remove the grid pattern
San Diego, CA (PRWEB) September 8, 2009
Elum Designs, Inc. http://www.elumdesigns.com, recognized as one of the 10 most influential letterpress wedding invitation design companies by Inside Wedding magazine and one of the top letterpress printers in the United States has just launched a commercial photopolymer plating division, Letterpress Plates by Elum Designs. Their new website, http://www.letterpressplates.com, will provide commercial printers, letterpress companies, designers and closet letterpress tinkerers alike, with high quality photopolymer plates. Elum has been processing photopolymer plates for their own use for the past 7 years and judging from the quality of their printing they have perfected the process for use with letterpress.
"It just seemed like a natural progression for our business model and something that was going to be very easy to get up and running fast. We were constantly being asked by other printers in the letterpress community if we would process their polymer plates so we just decided to run with it," states Brad Foster, CEO of Elum Designs, Inc.
Elum's new easy to use website, http://www.letterpressplates.com, went live last week and already has over 40 new users say's Foster. The site has been designed to allow customers to create accounts, upload job files and track the progress of their photopolymer plate orders once they have submitted them into production.
"Eluminum" Letterpress Printing Base
Elum has also designed an aluminum printing base that can be used for all plastic backed photopolymer plates. The Eluminum base is a precision ground, solid piece of high-quality anodized aluminum. After the anodizing process the base is laser etched with a ruled grid pattern, making registering the photopolymer printing plates a breeze. "We laser etch our bases because laser etching is the most precise way to create a perfectly straight grid pattern, and it's permanent. Absolutely no printing chemicals or scrapers will remove the grid pattern" say's Foster. The Eluminum base gets locked into a printing chase and provides a perfect mounting platform for the plastic backed photopolymer plates.
Elum is also a distributor of Bunting magnetic bases and magnetic products. The Bunting bases are used in a similar fashion as the Eluminum base, however, users of the magnetic bases use steel backed photopolymer plates instead of the plastic backed photopolymer plates. On the website you can also find plate making supplies such as unexposed photopolymer plates sold by the sheet and case, double-sided adhesive tape for mounting plastic plates and they will soon be selling Anderson and Vreeland plate processing machines.
Elum Designs - Old world printing, new wave designs
First launched in 2001, Elum has revitalized the centuries-old art form of letterpress printing with high-style modern designs and sumptuous materials. An inspiring collection of designer paper products and letterpress invitations features original artwork reflecting the most current trends in the world of design and fashion, transforming stationery into a chic personal accessory.
Selected as one of Today's Top Stationery Designers and recognized by top publications such as Vogue, People, In Style Weddings, Martha Stewart Weddings, Inside Weddings and Oprah magazine, Elum has continually set the bar high with trendsetting letterpress wedding invitation designs and has earned a loyal following, including a distinguished global customer client base, discerning celebrity clientele and an ever growing following of self-described paper fanatics everywhere.
Elum has set a new standard of excellence in letterpress wedding invitation design and fabrication. Their entire letterpress wedding invitation line is printed on the most superb, 100% repurposed cotton rag printmaking papers from around the world. Elum approaches both the design and fabrication of every invitation with the same creative perspective and modern stylization that is tantamount to the most respected in the graphic design industry.
Environmental Statement
Since their inception in 2001, Elum has believed in leaving a small footprint on the Earth. All Elum products use tree-free, 100% post-industrial waste cotton rag or recycled grey board raw material papers and soy based inks for their every-day stationery and custom invitation lines. Letterpress plates are recycled and all scrap and waste papers get picked up by fiber recyclers for reuse. Elum has continually been recognized by Legacy Fibers for their outstanding contribution in paper recycling.
For more information about Elum Designs, please contact Brad Foster at 858.453.4500, or visit Elum online at http://www.elumdesigns.com for more information.
# # #