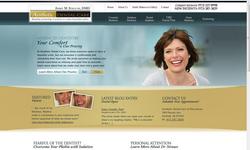 We're just trying to make people more comfortable and we're trying to get them to know it's okay to relax here.
Fairfield, NJ (Vocus) September 5, 2009
A prominent cosmetic dentistry practice in Fairfield and Essex County, New Jersey is launching a new website designed to communicate with web visitors using some of the most innovative technological tools available. The new online presence for Aesthetic Dental Care of NJ incorporates a user-friendly design, a variety of pages devoted to procedures offered at the practice, and web video documentaries featuring overviews of the facility and interviews with its director, Dr. Jerry Strauss.
Dr. Strauss, a New Jersey cosmetic dentist, and his team at Aesthetic Dental Care of NJ are using the new website to educate current and prospective patients about the advanced options that are available to them. Web visitors interested in porcelain dental veneers in New Jersey and other cosmetic and restorative treatments can read detailed information on what to expect, or they can watch videos of Dr. Strauss describing the procedures.
Working in conjunction with dental website design firm Rosemont Media®, Aesthetic Dental Care has developed a website that introduces Dr. Strauss, the staff, and their procedures and allows visitors to become familiar with the practice before they even walk in the door. The website is designed to give both new and frequent patients an overall sense of Aesthetic Dental Care, in keeping with Dr. Strauss' vision of a pleasant, anxiety-reducing environment. "We're just trying to make people more comfortable and we're trying to get them to know it's okay to relax here."
In addition to internet video, Dr. Strauss' new website reaches out to patients by giving them the latest news in cosmetic dentistry with an updated blog called Dental Bytes. The site also includes information on laser dentistry options, teeth whitening, a smile makeover before-and-after photo gallery, and links to Aesthetic Dental Care's Facebook and YouTube pages.
Dr. Strauss says part of the reason for the new site is to reach out to those who do not have necessary dental work due to anxiety. With New Jersey sedation dentistry and a number of amenities designed to help people relax in his office, Dr. Strauss says technology has advanced in such a way that people no longer have to fear the dentist's chair. "Reports say that 50 percent of people in this country don't visit a dentist out of fear. 'Sedation dentistry' is something that allows people to come in and have dentistry done."
Dr. Strauss hopes the new website provides an important educational tool for visitors with its easy, user-friendly access to information on procedures that can help them improve the appearance of their teeth and overall dental health, as well as relieve the all-too-common fear of having dental work.
About Dr. Jerry Strauss
A graduate of Syracuse University and of Boston University's School of Dentistry, Dr. Jerry Strauss has been practicing dentistry for over twenty years. He achieved Mastership Status in the Academy of General Dentistry, an honor that is awarded to less than one percent of dentists in the entire country. Dr. Strauss is a member of the American Academy of Cosmetic Dentistry, the Academy of Laser Dentistry, the Dental Organization for Conscious Sedation, the New Jersey Dental Society, the International Academy of Comprehensive Aesthetics, and dental honor society Omicron Kappa Upsilon.
For more information on Dr. Jerry Strauss and Aesthetic Dental Care, the practice can be reached at 389 Passaic Ave., Fairfield, New Jersey, 07004 – (973) 287-3829; or via the website at http://www.aestheticdentalcarenj.com.
###