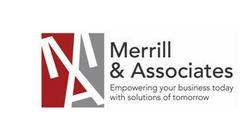 By bringing these two disciplines together, the customer will experience a higher success ratio and VoIP usage will no longer be a tested technology, but rather a dependable and easily accessible technology which offers greater flexibility and reduced costs
Brea, CA (PRWEB) September 9, 2009
Merrill & Associates a Platinum Avaya Partner and Solutions Provider today announced creation of their Network Services Division. Andy Sherman, Director of Sales & Marketing, made the announcement.
"Helping clients find efficiencies within their networks has allowed them to fund other business affecting projects," said Sherman. "Combining carrier services with hardware and applications provides a real value to our clients."
Led by Tom Noto, this new sales division will focus on TDM to VoIP conversions for customers looking to upgrade their services and reduce telecommunication infrastructure costs. Through detailed traffic analysis, Merrill and Associates will determine the appropriate VoIP requirements and take a vendor agnostic approach with access to over 75 Tier 1, 2, and 3 carriers. Based on the individual business requirements of the organization, Merrill and Associates will present offers from the appropriate carriers to accurately address these requirements.
Additional value can be found in bringing together the Carrier services with the hardware division. As these technologies develop and converge, Merrill and Associates has found a growing need for a tighter integration between the two organizations.
"By bringing these two disciplines together, the customer will experience a higher success ratio and VoIP usage will no longer be a tested technology, but rather a dependable and easily accessible technology which offers greater flexibility and reduced costs," said Tom Noto. "Merrill and Associates will also facilitate all Pricing/Contracting/Negotiations and Implementation with the chosen carrier."
In additional to TDM to VoIP Conversions, Merrill and Associates' Network Division also offers the following services:

MPLS/WAN Network Design and Implementation
SIP Trunking Design and Implementation
Data Center Deployment
CRM/ERP Software Consulting
Call Center Virtualization
Enterprise/Carrier Conferencing Services
Security Assessments
HIPPA Compliance Assessments
PCI Compliance
WAP Design and Deployment
Wireless Services
Merrill & Associates is a leading provider of end-to-end communications services including Unified Communications (UC), Voice over IP, convergence, mobility, and contact centers. They also specialize in consulting, design, implementation, maintenance, and technical support services. As a Platinum Avaya Business Partner, Merrill works closely with Avaya and other strategic partners such as Cisco, Extreme Networks, Juniper Networks, NetIQ, Polycom, and Tandberg, to integrate the latest hardware, software, video and applications into leading-edge business solutions.
About Merrill & Associates:
Founded in 1989 and with offices in California and Nevada, Merrill & Associates is a Platinum Avaya Business Partner and has strategic partnerships with Cisco, Extreme Networks, Juniper Networks, NetIQ, Polycom, Tandberg and many others. Merrill delivers scalable, cost-effective solutions tailored to a customers communications needs. They provide end-to-end support from design, implementation, testing, maintenance, and technical support.
# # #