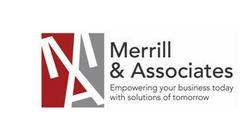 As Avaya continues to push the implementation and integration support to Business Partners, we continue to grow our Operational Organization
Brea, CA (PRWEB) September 15, 2009
Merrill & Associates a Platinum Avaya Partner and Solutions Provider today announced that they are adding to their Project Management team. Mike Merrill, President and CEO, made the announcement.
"As our clients move forward with more multi-layer and complex projects, we are in lock-step with the type of project support we can offer," said Mike Merrill, President and CEO. "Adding Project Managers of this caliber will ensure that we are able to be leaders in implementation, integration, and Professional Services."
Joining Merrill & Associates are:
Ed Martinez - Ed Martinez comes to Merrill and Associates with an extensive background in the telecommunication industry. He has a very long and deep knowledge of the Avaya product line, having started with Pacific Telephone which transformed to AT&T and again transformed to Lucent Technologies. Ed has sold, configured and implemented the Avaya PBX family of Voice Systems, Voice Servers, Audix, Modular Messaging and CMS and has been a Lucent Achiever Award winner 5 times over.
Ed's latest position was as the Telecommunications Manager for Citi Residential Lending Inc., responsible for the Voice Infrastructure of over 15 enterprise sites. He will now carry the title and responsibilities of a Project Manager. Ed will oversee large enterprise projects involving Avaya Servers, IP Telephony, Voice Portal and Call Centers.
Tammi McPhee - Tammi McPhee has 11 years of experience in the Telecommunications industry, working in various positions with Carriers (GTE/Verizon) to Enterprise-level customers (CitiGroup Technology Infrastructure) support.
She has performed various duties in her career such as Contact Center hardware and software support, PBX hardware and software support, Application Development QA, Hardware and Software Implementation Project Mgmt, and Business Process Documentation and Contact Center Training.
One of her most recent accomplishments was to successfully manage a nation-wide project to install a 40 plus node Video Conferencing network for CitiGroup.
Tammi will be working with Merrill as a Project Manager for Contact Center Application Integration.
Merrill & Associates is a leading provider of end-to-end communications services including Unified Communications (UC), Voice over IP, convergence, mobility, and contact centers. They also specialize in consulting, design, implementation, maintenance, and technical support services. As a Platinum Avaya Business Partner, Merrill works closely with Avaya and other strategic partners such as Cisco, Extreme Networks, Juniper Networks, NetIQ, Polycom, and Tandberg, to integrate the latest hardware, software, video and applications into leading-edge business solutions.
"As Avaya continues to push the implementation and integration support to Business Partners, we continue to grow our Operational Organization," said Lenin Rodriguez, CTO. "At the end of the day, whether we are providing services for a client or one of the many Business Partners that come to us, our execution is what matters. This is another way to make sure that everyone we work with comes away 100% satisfied on every project"
About Merrill & Associates
Founded in 1989 and with offices in California and Nevada, Merrill & Associates is a Platinum Avaya Business Partner and has strategic partnerships with Cisco, Extreme Networks, Juniper Networks, NetIQ, Polycom, Tandberg and many others. Merrill delivers scalable, cost-effective solutions tailored to a customers communications needs. They provide end-to-end support from design, implementation, testing, maintenance, and technical support.
# # #