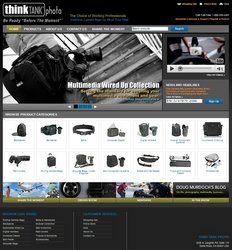 We founded Think Tank Photo specifically to serve the needs of photographers shooting with DSLRs and multimedia
Santa Rosa, Calif. (PRWEB) September 8, 2009
Award-winning camera bag company Think Tank Photo today announced the launch of its newly redesigned website. Think Tank Photo aims to extend the company's reach by serving a broad audience of professional, prosumer, and serious amateur photographers and other visual journalists. The new website features expanded content and video related to working photographers using Think Tank camera bags and laptop bags in the field and the studio. The redesign incorporates Think Tank's traditional branding with a bold new graphic design and navigation.
"We founded Think Tank Photo specifically to serve the needs of photographers shooting with DSLRs and multimedia," said Doug Murdoch, Think Tank Photo's co-founder and lead designer. "Just as those technologies revolutionized how images are captured, processed, and transmitted electronically, we knew that our new website must mirror that same speed and ease of use. Specifically, we want our site's visitors to experience a more vibrant and seamless view of Think Tank and our designs."
Design Team
Think Tank's design team, led by Marketing Creative Director Larry Atil, has been developing the new website over the past year. Think Tank Photo consulted with Closed Loop Marketing on site strategy, usability and search marketing. Blast Advanced Media built the site on their Motivity™ e-commerce platform, provided organic SEO consultation services, and advised on the best user-centered design practices. By combining the strengths of these two leading agencies and the Motivity platform, Think Tank Photo now has the state-of-the-art website among camera bag companies.
"We are very grateful to our colleagues at Closed Loop Marketing and Blast Advanced Media for their insights and guidance," said Atil. "Our premise in undertaking this significant redesign was that we wanted our site to be optimized for how the Internet operates today and to have a solid platform we can build on in the future."
About Think Tank Photo
Headquartered in Santa Rosa, California, Think Tank Photo is a group of designers and professional photographers focused on studying how photographers work and developing inventive new carrying solutions that meet their needs.
http://www.thinktankphoto.com
About Blast Advanced Media
Founded in 1999, Blast Advanced Media is a website optimization and online marketing agency based in Roseville, near Sacramento, California. Blast Advanced Media is a Google Analytics Authorized Consultant, Google Website Optimizer Technology Partner, Google Website Optimizer Authorized Consultant, and Google AdWords Qualified Company that specializes in website testing (A/B Testing & Multivariate Testing), usability testing, and search engine optimization for ecommerce and B2B lead generation websites.
http://www.blastam.com
About Closed Loop Marketing
At Closed Loop Marketing, we help our clients maximize the return on their web investment. Drawing from the latest research and our years of practical experience we provide actionable, real-world solutions that make businesses more profitable. Services include search engine marketing, conversion optimization, and web analytics.
http://www.closed-loop-marketing.com
# # #