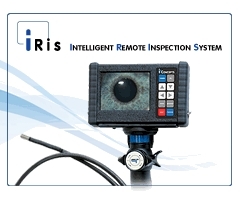 Melbourne, FL (Vocus) September 8, 2009
The new iRis™ portable video borescope is a revolutionary remote visual inspection tool that is light weight, easy to use and high performance. The new video borescope produces brilliant high resolution images with a powerful Sony Color SUPER HAD™ CCD camera. Powerful LED's provide brilliant white light with a color temperature of 6500° K and outperforms all other industrial video borescopes in this category. A high resolution LCD display, 4 -way articulation, text annotation and digital image capture are also included features.
"We are excited to offer such a ground breaking video borescope to our industrial customers. The combination of portability, high resolution images and advanced features make the iRis™ portable video borescope a great value," said Paul Fitzgerald, President and CEO, Advanced Inspection Technologies.
The iRis™ portable borescope weighs in at just 1.5 Kg (3.3 pounds) which is nearly half that of competitive portable video borescopes. Light output and battery performance also make the iRis™ video borescope the leading choice in the industrial market. The iRis™ video borescope is also extremely competitively priced at just just over $11,000.00. to make the decision even easier AIT is offering a 25% trade in credit for old videoscopes (regardless of the condition) until December 31st, 2009.
###