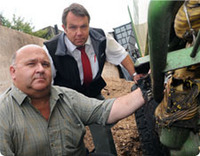 Farm fires are surprisingly common and there are practical steps that all landowners can take to minimise the risk of blazes occurring. It is a good idea for farmers to consider carrying fire extinguishers on all their vehicles - this is just one simple measure that people can take.
Truro, Cornwall, UK (PRWEB) September 8, 2009
Cornish Mutual is warning farmers across the region about significant fire risks during harvest time.
A new campaign is being launched by the farm insurance specialists to raise awareness of the potential dangers of farm fires and steps that landowners can take to reduce the risk of blazes from happening.
It comes as figures released by Devon and Somerset Fire and Rescue Service show that during 2008/09 their crews attended 133 farm fires - 80 involved barns or agricultural buildings and hay. 53 call-outs dealt with vehicle fires including tractors and combine harvesters. Of the 133 fires, 47 may have been started deliberately.
Latest statistics from Cornish Mutual show that over the last year they handled 34 claims involving farm fires worth £319,000 - eight of which involved farm machinery. The firm has also handled 26 claims from Members who have been victims of arson during recent years.
Philip Wilson, Cornish Mutual's Area Manager for Devon, Dorset and Somerset said: "Farm fires are surprisingly common and there are practical steps that all landowners can take to minimise the risk of blazes occurring. It is a good idea for farmers to consider carrying fire extinguishers on all their vehicles - this is just one simple measure that people can take."
He added: "As well as the physical damage, fires can also lead to significant financial losses and huge disruption to businesses. Fires cause more damage to industrial and commercial property than any other hazard. Farmers Insurance and taking steps to prevent fires can provide important peace of mind and minimise disruption."
Andy Justice, Fire Investigation Manager for Devon & Somerset Fire & Rescue Service said: "Every year in the UK 1,700 farm buildings and 66,000 acres of grassland are destroyed by fire. Fifty per cent of these fires are started deliberately, either as an act of vandalism or fraudulent insurance claim. Where it is believed a significant crime has been committed or physical evidence is found at a fire scene, then a joint police/fire investigation is often initiated with the intent of identifying and prosecuting the offenders."
Andrew Dinnis (pictured) runs the 500 acre Rydon Barton Farm in Talaton, near Exeter and knows all too well the cost and consequences of farm fires - his baler went up in flames recently.
He said: "It was quite scary just how quickly the fire spread from the flames that I saw initially coming from the electrical control box. We tried to get it under control using two fire extinguishers and driving the tractor away from the baler, but the fire started again just before the fire brigade arrived."
Meanwhile, John Down of Park Farm, near Taunton fitted extinguishers throughout his fleet after his first tractor blaze and experienced a second machine fire last summer.
He explained: "You could see the smoke from miles away. We tried to put it out with water, but five gallons doesn't go far. That's when we decided to put two proper, powder extinguishers on everything. We were able to get the second fire under control using them, limiting the damage. For ten or fifteen quid, they can save a lot of time and hassle."
Cornish Mutual has now put together fire safety advice for farmers in the region to consider:

Complete a quick and simple survey to identify potential risks and security measures - ask your local fire safety officer or insurance advisor for help
Check your insured values are high enough - machinery values have risen recently and you could be left short if you have to replace a machine
Make plans and ensure staff are trained in advance to deal with fire emergencies, including evacuating livestock
Remove hay and straw from fields as soon as possible after harvesting
Keep petrol, diesel, fertilisers and pesticides under lock and key in secure areas and dispose of refuse safely on a regular basis
Regularly check and maintain open water supplies for fire fighting and check equipment and farm machinery is in good order
Regularly clean out machinery to reduce fire risk from debris
Keep water and CO2 fire extinguishers on board and in dry conditions keep a sprayer filled with water on hand to lay a fire break
Resist the urge to keep going when the temperature gauges are in the red or bearings are running hot
If fire breaks out, send someone to the farm entrance to direct the fire service
More information can be found by visiting Devon & Somerset Fire and Rescue Service's website http://www.dsfire.gov.uk
Every farm is unique - Cornish Mutual offer farm insurance packages that can include public liability, employers' liability, property insurance, livestock insurance and personal accident cover. Other products include a tailored buy to let property insurance for property owners in the residential and holiday lettings markets, including public liability insurance, building and contents insurance, loss of rent insurance, employers and holiday home insurance.
Notes for editors:
Founded by a group of Westcountry farmers in 1903, Cornish Mutual is the only general insurer based in the South West. Even today, the company is still owned by its Members, and remains at the heart of rural communities throughout Cornwall, Devon, Somerset and Dorset.
Although staying true to its origins in agriculture (around two thirds of Cornwall's farmers are Members), Cornish Mutual now provides household and holiday home insurance, commercial, events and personal accident insurance to Members of all descriptions, living or working throughout the South West countryside.
For more information, contact:
Melissa Ward
Cornish Mutual
01872 277151
07702 673343
mward (at) cornishmutual (dot) co (dot) uk
http://www.cornishmutual.co.uk
###