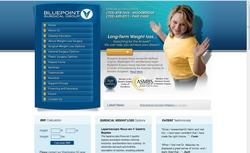 Woodbridge, VA (Vocus) September 8, 2009
Potomac Hospital and Bluepoint Surgical Group are joining together to sponsor an event designed to help those affected by morbid obesity to explore, experience, and celebrate steps toward a healthier lifestyle. The Weight Loss Surgery & Healthy Living Expo will be held on Sunday, September 20, 2009 from 11:00 a.m. to 3:00 p.m. at the Hylton Education Center at Potomac Hospital. The Expo is open to all and will feature seminars, exhibits, and a fashion show featuring Potomac Hospital weight loss surgery patients. The Bluepoint Surgical Group, a facility that partners with a number of specialist weight loss surgeons in Washington, DC and the northern Virginia area, says the Expo can be beneficial for individuals who want to learn about weight loss surgery, are actively pursuing surgery, or have already undergone bariatric surgery and are currently experiencing the changes in lifestyle and dietary habits required after the procedure.
The Weight Loss Surgery & Healthy Living Expo will allow attendees to participate in learning sessions, meet with doctors and staff, and visit exhibits. Participants will be educated on a wide range of topics related to healthy eating, vitamin supplements, exercise programs, plastic surgery options, and revisional bariatric surgery. The Expo will also feature a raffle to win a new Wii Fit game - a virtual exercise program that's rapidly gaining in popularity.
Entrance to the Expo is $10 for adults and free for children under 18. Those who would like to register can contact the Bluepoint Group's Washington, DC bariatric surgery practice for more details.
The Bluepoint Surgical Group
The Bluepoint Surgical Group is composed of some of the most experienced board-certified surgeons on the east coast. The practice has been designated a Center of Excellence by the American Society of Bariatric Surgery, a distinction given to only one out of every 303 bariatric surgery centers. The Bluepoint Surgical Group offers comprehensive weight loss surgery programs including gastric bypass, REALIZE® Band, and LAP-BAND® System surgery in Washington, DC. Doctors and specialists at the practice are dedicated to helping patients through every step of the bariatric surgery process before, during, and after surgery. The center provides a variety of programs and support groups to help patients understand what is to be expected from the process and how they can safely and effectively lose weight to reduce serious risks to their health caused by morbid obesity.
The Bluepoint Surgical Group just established an innovative, state-of-the-art facility at Fair Oaks Hospital, complete with 3 brand new exam rooms and designed to accommodate bariatric patients. The new facility is just steps away from the hospital's main entrance, and is part of Inova Health System and Inova Fair Oaks Hospital's new four-level medical office building and Ambulatory Surgery Center.
da Vinci® Robotic Surgery System
The Bluepoint Surgical Group utilizes one of the most advanced surgical systems available. The futuristic da Vinci® Robotic Surgery System allows for minimal incisions, less scarring, and a quicker recovery time after weight loss surgery. Using computers and 3-D technology, the da Vinci® system makes it possible for the surgeon to perform the procedure via a control station and wristed controls attached to his hands. The surgeon's hand movements signal robotic instruments to carry out the doctor's orders with pinpoint precision. FDA-approved for gastric bypass surgery, the da Vinci® system is able to give weight loss surgeons a better visualization of the surgical field, as well as an improved range of motion and dexterity. The technology also makes it possible to reduce unintended movements from hand tremors, and often results in incisions that are only one to two centimeters in length. The da Vinci® Robotic Surgery System is completely dependent on the surgeon and is designed with a multitude of safety features to ensure a safe procedure.
For more information on the Weight Loss Surgery & Healthy Living Expo and weight loss surgery procedures such as gastric bypass for Washington, DC, Maryland and Virginia-area patients, the Bluepoint Surgical Group can be reached at any one of their facilities located in: Woodbridge, VA – (703) 878-7610; Vienna, VA – (703) 865-8120; and Fair Oaks in Fairfax, VA – (703) 620-3211; or via website at http://www.bluepointgroup.com.
# # #