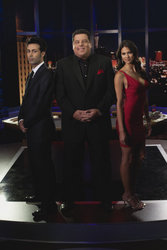 We are delighted with 'Face the Ace,' and believe it has tremendous future potential to expand its mainstream viewership
Universal City, CA (PRWEB) September 9, 2009
POKER PROductions, in association with NBC Universal, is pleased to announce that their new game show "Face the Ace" returns to NBC on Saturday, September 12, at 2:00 ET. The poker-themed show gives contestants who qualify online an opportunity to win up to $1 million by successfully defeating three different poker professionals in a series of pressure-packed heads-up matches. Should a contestant lose at any time, they walk away with nothing.
The show is hosted by Steve Schirripa, who played character Bobby "Bacala" Baccalieri on the hit HBO series "The Sopranos." "Poker After Dark's" Ali Nejad is alongside to provide expert analysis, while Megan Abrigo of "Deal or No Deal" graces the set as the show's hostess.
Fifteen top poker professionals, including the likes of Phil Ivey, Gus Hansen, Patrik Antonius, and Jennifer Harman will rotate through the season. But the real stars of the show are the contestants themselves. They all finished in the top ten of special qualifying tournaments held at http://www.fulltiltpoker.net or http://www.facetheace.com, quite a feat in its own right. They were then flown to Las Vegas where they auditioned to have an opportunity to appear on the show. The qualifying tournaments for future shows continue to run around the clock, and they are free for anyone to enter.
And this is part of the appeal of the show. Because it cost them absolutely nothing other than a few hours of their time to put themselves in a position to possibly win $1 million, many contestants are of the mindset that they have nothing to lose by going for the big prize. This "all-or-nothing" attitude is particularly appealing to viewers who can easily imagine themselves in the contestants' shoes and for the most part are cheering for them to win.
"We are delighted with 'Face the Ace,' and believe it has tremendous future potential to expand its mainstream viewership," says Jon Miller, Executive Vice President of Sports at NBC. "The program is first and foremost a game/reality show, just with a poker theme, and as more people become aware of this, we believe the show will attract many more viewers than simply those who enjoy watching poker on television."
Mori Eskandani, president of POKER PROductions, the producers of the show for NBC, agrees. "Viewers of this week's show will see that we've made some changes from the first two episodes which are designed to create even more excitement. For instance, the live audience, which is comprised mostly of the other qualifiers and their friends or spouses, will be far more vocal and have a greater role in maintaining a high energy level on the set. There are some other subtle changes also, and we think the viewers will like them."
"'Face the Ace' represents a different venture for our company in that is not a poker show per se, but rather a game show," Eskandani continued. "All of our other shows have specifically targeted the poker community, and while this market is very important to us and our overall success, they represent only a portion of the viewers we are attempting to reach with 'Face the Ace.' We are hoping that the combination of a slight shift in our marketing efforts, the Saturday afternoon time slot, and some changes we have made to give the program more of a game show feeling will help us better achieve our objectives for this show in the future."
Viewers this week will see an exuberant 33 year-old qualifier from Philadelphia take his shot at becoming the first "Face the Ace" millionaire. Previously, Don Topel from Midlothian, IL won his first two matches before losing his final match against poker professional Gavin Smith, who sent Topel home empty-handed and now has aptly been given the nickname "Dream Crusher."
Following are the scheduled air dates and times for "Face the Ace" for the remainder of the first season. Check your local listings for the exact time in your area. For those who may miss it on television or who want to catch up on past episodes, they can also watch the program at http://www.nbcsports.msnbc.com and at http://www.hulu.com.
Saturday, September 12 - 2:00 p.m. ET
Saturday, October 31 - 5:00 p.m. ET
Saturday, November 14 - 3:00 p.m. ET
Saturday, December 12 - 3:00 p.m. ET
Saturday, January 2 - 2:30 p.m. ET
This press release was written by Dennis Oehring, who serves as the Public Relations Coordinator for the firm POKER PROductions.
###