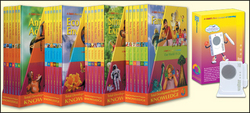 Hong Kong (PRWEB) September 21, 2009
A Child's First Library of Learning was originally published in the early 70's by Gakken, a Japanese publisher. The English adaptation was first published in 1987. A Child's First Library of Learning has sold over 25 million copies in 22 languages and 45 countries around the world. Over the years, the series has been updated, redesigned and reconfigured several times.
The current edition is a set of 24 volumes with an Index, plus an electronic gadget called Walter. These children's books are divided into four areas of knowledge: Life, Nature, Science and Our World. The beautiful covers and the bright images attract children to read. The questions arouse curiosity, and the answers are provided using language that is easy to understand. Photos and illustrations supplement the answer and help to improve understanding and retention of the subject. Every page also has a note to parents section which provides a more in-depth answer to the same question, so the series becomes useful for every member of the family.
Walter adds more life to A Child's First Library of Learning by providing over 10,000 sound files related to the subjects covered in the books. Every page has several sound icons that can be played using Walter's pen. Children are thrilled to see the characters on the pages talk, sing, provide additional information, and correct pronunciation or simply play sound effects. The sound files have also been localized in different languages.
Educational Technologies was a division of AOL Time Warner until 2002 when it was acquired by Times Publishing Group - a publicly listed company in Singapore. Educational Technologies is one of the biggest publishers and marketers of children's home-education products, focusing on the publishing of early childhood education and preschool educational products. The products are developed in Hong Kong and sold through the direct sales channel in 21 countries across Asia. There are over 1000 sales consultants who meet parents at homes or offices and at exhibitions, to explain the importance of a child's early years and supplementing school education at home.
The company believes in the future of publishing and books for children, and continues to invest heavily in the development of interactive early education products for kids.
If you would like a free presentation of this product, please click here.
Follow us on Facebook: Facebook.com/Educational.Technologies
Follow us on Twitter: Twitter.com/ChildEducation
###