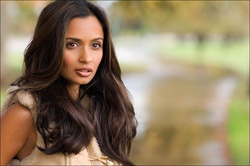 I have always sought to create opportunities and connect with those projects and people that will add something positive to our world
New York, NY (PRWEB) September 9, 2009
Kavi Ladnier, an Indian-American television and screen actress, has been announced as the fresh new face of Thevi Cosmetics makeup
and will begin to venture into projects, demonstrating support and endorsement for the brand.
The first project at hand involves "The New Hollywood"
(http://www.thenewhollywood.org/) which will highlight stories of and secure strong bonds with these up and coming and established talent to showcase diverse women who represent the beauty brand's mission. Kavi will be co-producing this project with her production company Leelu-Pie Productions and Thevi.
Engaging audiences while starring in the award-winning feature Karma Calling, Heroes and CSI:NY, Ladnier has embraced her new role as spokeswoman for Thevi Cosmetics. "I have always sought to create opportunities and connect with those projects and people that will add something positive to our world," says Ladnier, "I seek always to create with love, with value and with integrity." The contributions of Kavi Ladnier to the Thevi Cosmetics mission represent a lucrative milestone for Thevi Cosmetics, and "The New Hollywood" project promises to be the first of many initiatives to distinguish the brand -- as well as the women it intends to serve -- in the marketplace.
Some upcoming projects that Thevi is working on is the makeup lovers program, Chai tea parties which offer makeup parties tailored to customers who are interested in group sampling, purchase point program, the blogger giveaway program which promotes video feed and use of the product through blogs and YouTube by top bloggers, featured makeup artists, and bi-weekly Thevi obsession newsletter to increase customer loyalty. Information about these programs can be found on either http://www.thevicosmetics.blogspot.com or http://www.thevicosmetics.com.
WHO IS THE THEVI WOMAN?
The THEVI woman is focused on a daily lifestyle which promotes a
balanced life, inner beauty, elegant simplicity and spiritual energy. How she presents herself is extremely important and she is comfortable spending top dollar for prestige quality and service. She embraces life. She embraces family. She embraces her own femininity. She embraces color in all her surroundings.
THE THEVI INSPIRATION - THE COLOR LIFESTYLE
India is a country of opulence and grandeur, but also one of serenity
and spiritual energy. THEVI embraces this richness in Indian lifestyle. The colors are vivid, the fabrics are plush, the sounds are deep, and the detailing is ornate. As an Indian-inspired lifestyle brand, THEVI brings the luxurious feel of this culture to life with lush colors for everyday use. THEVI encourages every woman to express themselves through makeup, as well as through food, home decor, music, fashion, and more, catering to all of the senses.
Established in 2008, Thevi is a premium cosmetics line designed for women of diverse ethnic backgrounds while still offering a full palette of color combinations. Thevaki Thambirajah -founder of Thevi--uses her own experiences as a Sri Lankan wife, mother, and entrepreneur to create wearable makeup for women of like backgrounds, designed to compliment the skin while providing the benefit of an SPF and a hypoallergenic formula.
Contact information regarding Kavi Ladnier (http://www.kaviladnier.com/), and Thevi Cosmetics:
Katherine Fleischman
Blink PR
580 Broadway, New York, NY, 10012
Tel: 212.966.8770
###