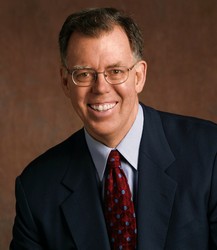 It is easier to change one's religion than one's diet.
New York, NY (PRWEB) September 29, 2009
Dr. Barry Sears, MedWell Foods Chairman and author of #1 New York Times bestseller, The Zone, says primary health care concerns of women, such as obesity, diabetes, heart disease, and breast cancer, are ultimately driven by dietary-induced inflammation. This topic and how to reverse it will be addressed when he speaks at M2W®-HC™…The Conference for Marketing Healthcare to Women (http://www.m2w-hc.com ).
Dr. Sears and Dr. Nancy Snyderman, Chief Medical Editor of NBC News, will be the two keynote speakers at the first annual M2W®-HC™, to be held November 5 and 6 in Washington DC.
"I am honored to be a keynote speaker at the conference as it tries to bridge the gap between cutting-edge science and the realities of the marketplace," said Dr. Sears.
Other panelists and speakers at the prestigious M2W®-HC™ conference represent a cross section of marketers from healthcare companies and institutions.
Dr. Sears said, "Radical dietary changes that started 30 years ago have resulted in the activation of ancient inflammatory genes that are accelerating the development of chronic disease conditions. Women are the gatekeepers of health for the family. As the primary purchasers of food and nutritional products for the family, women can be the leaders to reverse this pro-inflammatory trend."
He added, "Basically, healthcare reform must begin in the kitchen because of the hormonal impact of food. Women are very much attuned to the importance of hormones, and are increasingly aware that food can trigger powerful hormonal responses that directly affect health."
"Pro-inflammatory diets have gotten us into a nutritional mess in America. This also means that anti-inflammatory diets can reverse this trend," said Dr. Sears. "One of the first places to start is to end the subsidies for corn and soybean crops. This has caused an abundance of cheap refined carbohydrates and vegetable oils that, when combined, increase diet-induced inflammation in millions of Americans."
"Dietary-induced inflammation can activate genes in people genetically predisposed to gain weight. Once that happens, weight gain happens with relative ease," said Dr. Sears, a researcher and expert on obesity and inflammation.
Dr. Sears added, "It is easier to change one's religion than one's diet." In 2006, he founded MedWell Foods to develop a new food technology, termed "molecular baking," to effectively change the hormone responses of the primary foods that Americans like to eat, such as bread, pizza, pasta, and pastries.
"MedWell products are made with specially processed flour consisting of one gram of fat for every two grams of protein and three grams of carbohydrates. This 1-2-3 ratio leads to improved control of hormonal levels that are critical in the reversal dietary-induced inflammation," Dr. Sears said.
Available at http://www.medwell123.com, or through the MedWell customer service center at 866-633-7898, MedWell 1-2-3™ foods arrive fresh on a weekly basis to make breakfasts, lunches, dinners and the snacks for the next seven days at a cost of $10 per day.
Dr. Sears is an international authority on the hormonal responses induced by our diet. His books have sold more than 5 million copies in the United States and have been translated into 22 languages, providing a global foundation for the distribution of MedWell 1-2-3™ food products.
M2W®-HC™...The Conference for Marketing Healthcare to Women, to be held November 5 & 6, 2009 at the National Museum of Women in the Arts, Washington, D.C., is the singular healthcare marketing conference focused on the powerful, female healthcare consumer segment. This top-tier, B2B event is designed for senior level brand and agency healthcare marketers and will showcase the best thinking, newest research and case studies on the female health and wellness consumer enabling these key healthcare brand marketers to effectively connect with this all-important target. Visit http://www.m2w-hc.com for more information.
###