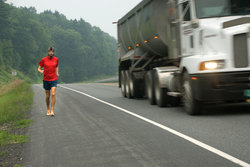 Brattleboro, Vt. (Vocus) September 9, 2009
Tellman Knudson is taking the first step of his 3,200-mile barefoot run across America in New York City's Battery Park tomorrow, 9/9/09, at 9 a.m. This historic event will raise money and awareness for homeless and at-risk youth, with a goal of $100 million. The path across America will lead Knudson and his 6-person crew to the final destination at the Santa Monica Pier, just outside of Los Angeles, California.
Tomorrow's press conference begins at 8:30 a.m. at the Esplanade by the North Cove Marina in Battery Park City and includes a panel of esteemed speakers: Dr. Ron Thompson, Bill Chong, Mark Joyner, Jerome Kilbane and Tellman Knudson. Immediately following the conference, Knudson will host a one-mile fun-run around Battery Park. Participants in the fun-run are encouraged to donate to the RunTellmanRun campaign.
Dr. Ron Thompson is an associate professor at Columbia University's School of Social Work and licensed social worker. Dr. Thompson has 20 years clinical experience in adolescent psychiatric, substance abuse and child welfare settings and 15 years of research experience in adolescent alcohol and HIV prevention interventions. He is currently conducting two research projects, which are in collaboration with Covenant House NY.
Bill Chong, Deputy Commissioner for the New York City Department of Youth and Community Development, is also addressing the crowd and will be speaking to the city's position on funding its youth services and outreach programs. He has been serving as Deputy Commissioner for Youth Services since 2005.
Mark Joyner will speak about the entrepreneurial spirit and the potential this youth group represents. Joyner is a former US Army officer, Cold War veteran of military intelligence and former homeless youth. It was the entrepreneurial spirit inside him that has given him a #1 best-selling author credential and title of "inventor". Joyner published the first ever e-book and created the first ever ad-tracking system. Despite a broken toe, Mark will join Tellman in running barefoot as his journey begins out of New York City.
Jerome Kilbane is the Executive Director for Covenant House NY and has been part of the organization for over 17 years. He is dedicated to creating programs that meet the needs of the neglected homeless youth population. Jerry will address the need for additional funding for future growth of programs desperately needed. Covenant House is a gracious beneficiary of RunTellmanRun's fundraising efforts.
Tellman Knudson will speak about the journey ahead of him, his dedication to the cause and the tremendous need for money to fund programs that will create a better life for homeless and at-risk youth. Tellman Knudson is an internet marketing entrepreneur who has overcome great odds, including the physical challenge of being born with femeral antiversion.
About Tellman Knudson:
Tellman Knudson, 32, is a serial entrepreneur who has had great success in internet marketing. He is CEO of OvercomeEverything, ListBuildingClub and several other ventures. Tellman overcame femoral antiversion, a debilitating leg condition, to compete on his high school cross country running team, setting several school records and competing for the New Hampshire state championship. Tellman learned to leverage his ADHD, a condition that hinders many, to his creative and financial benefit. He has even been CEO of a busy hypno-therapy practice. Tellman resides in Vermont with his wife and long-time partner, Jodi Meehan, and toddler son, Torger.
About RunTellmanRun:
Tellman Knudson seeks to be the first person to run across America barefoot. He begins his 3,200-mile journey in Battery Park, New York on September 9th and heads west, running the equivalent of one marathon a day. The route follows historic Route 66 for much of the way, with stops in Cleveland, Chicago, St. Louis, Oklahoma City, Tulsa, Phoenix and finishing on the pier in Santa Monica, California.
About Teenage Homelessness:
Over two million youth (between the ages of 12 and 24) will experience at least one episode of homelessness each year and over 100,000 youth sleep on the street for 6 months or more in America. The vast majority of homeless, street-dependent youth will experience amplified risk of exposure to physical assault, rape, sexual exploitation, recruitment into gangs, and deepening mental health illnesses. Tellman Knudson has set a goal of raising $100 million dollars to help create the programs to reduce the risk these youth face on a daily basis, help get them off the streets, and rebuild their lives.
Run with Tellman:
Join Tellman Knudson for a section of his journey across America. Organized running events are planned for major cities along the route. Visit http://www.runtellmanrun.com for a complete listing of events.
Donate:
To make a donation, visit http://www.runtellmanrun.com/ and help re-build the lives of homeless and at-risk youth.
CONTACT:
Luke Q. Stafford, On-the-Ground PR Super Ninja
802-275-2749
http://www.RunTellmanRun.com
###