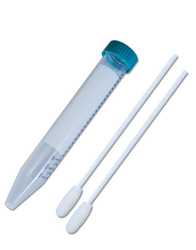 This research study is a prime example of how our Oragene•ANIMAL DNA collection product can impact animal health. The non-invasive collection method is ideal for maximizing animal well-being as it eliminates the need for painful blood draws to obtain a reliable sample
Ottawa, ON (PRWEB) September 9, 2009
DNA Genotek, a leading provider of products for biological sample collection, today announced that its Oragene•ANIMAL DNA collection kit is being used in an international study designed to find the genetic cause of Chiari-like Malformation and syringomyelia in dogs. The study is part of a collaborative effort between Dr. Clare Rusbridge and Penny Knowler at the Stone Lion Veterinary Hospital, London, UK and Dr. Zoha Kibar at the Sainte-Justine Hospital (HSJ) and Dr. Guy A. Rouleau at the Hospital Center of the University of Montreal (CHUM).
Chiari-like malformation is a neurological disorder where the bottom part of the brain, or the cerebellum, descends out of the skull and crowds the spinal cord, putting pressure on both the brain and spine resulting in many painful symptoms. Syringomyelia is a neurological disorder where a fluid-filled cyst develops inside the spinal cord. By far, the most common cause of syringomyelia is a Chiari-like malformation.
As part of the study, DNA from saliva was collected from multiple dog breeds. The collection involved breeders, veterinarians and pet owners on a worldwide basis. The analysis of the DNA samples is being conducted at the Research Centers of the HSJ and the CHUM in Montreal, Canada in order to identify the gene responsible for Chiari-like malformation and syringomyelia. In addition to research findings about Chiari malformation in dogs, the discovery of the gene may have implications for uncovering the genetic basis for the same disease in humans.
Dr. Clare Rusbridge, PhD, MRCVS and European Specialist in Veterinary Neurology, of the Stone Lion Veterinary Hospital said, "The Oragene•ANIMAL kit allowed us to increase the number of DNA samples collected because collection could be done easily and reliably by a breeder or pet owner anywhere in the world and sent back by mail. Breeders contributed samples from their own kennels and even arranged for DNA collection from related dogs through pet owners in other countries. This would not have been possible without Oragene•ANIMAL. The product is stable at room temperature for a long period of time which was a critical element in our successful DNA collection."
"This research study is a prime example of how our Oragene•ANIMAL DNA collection product can impact animal health. The non-invasive collection method is ideal for maximizing animal well-being as it eliminates the need for painful blood draws to obtain a reliable sample," said Ian Curry, President and CEO, DNA Genotek, Inc. "This work also underscores the value of canine studies for uncovering new genetic links that are likely relevant to human diseases."
For more information on the Oragene•ANIMAL for DNA Collection Kit, please visit http://www.dnagenotek.com or email us at info(at)dnagenotek(dot)com
About DNA Genotek:
DNA Genotek focuses on providing high-quality biological sample collection products. The company's lead product, the Oragene•DNA Self-Collection Kit, is the easiest way to collect and preserve large amounts of DNA from saliva. Oragene•DNA's reliability and ease-of-use have resulted in rapid adoption at top-tier health research institutions globally, including Harvard, Stanford, Cambridge, and Johns Hopkins. DNA Genotek markets its products worldwide and has established a global customer base in over 85 countries. For more information about DNA Genotek, visit http://www.dnagenotek.com .
For information about this press release contact:
Shauna White
DNA Genotek
613-723-5757 ext. 307
shauna(dot)white(at)dnagenotek(dot)com
® Oragene is a registered trademark of DNA Genotek, Inc.
###